Electric hybrid bikes buyer's guide
Much like standard hybrid bikes, electric hybrid bikes are versatile machines, well-suited to different types of cycling.
So, if you want a hybrid e-bike, what should you be looking for? We've put together this buyer's guide to help you match your preferred type of riding to the right electric hybrid bike.
Before we launch into things, our general electric bikes buyers guide might be of interest. And don't miss our other e-bike guides There's our electric road bikes buyer's guide and for those of a muddier persuasion, read our electric mountain bike buyers guide.
Why should I buy an electric hybrid bike?
Adaptable, versatile and easy to ride, there are plenty of reasons to choose an electric hybrid bike.
Make cycling to work more accessible: Of course, cycling to work isn't possible for absolutely everyone, but it's on a commute that an electric hybrid bike shines. In congested urban environments you'll be moving faster than cars and public transport, and thanks to the electric assistance, you'll look (and feel!) serene whilst doing so.
On a non-electric bike, the stop-start nature of cycling on busy roads can start to grate somewhat, but with the gentle assistance of an e-bike, accelerating away from traffic lights and junctions is a breeze.
READ: Five reasons to cycle to work
That assistance is a godsend if your potential commute is a sizeable distance. With an electric hybrid bike, riding 15 miles home after 8 hours in the office doesn't seem like such an insurmountable task.
The future of urban transport: We don't think we're exaggerating matters by saying that an electric hybrid bike is a very real alternative to owning a car, especially in congested UK cities. Slicing through traffic on your way to work, picking up your weekly shop or simply moseying on down to the pub for a swift half with friends – an electric hybrid bike is a low cost, low maintenance, low-stress transport method. And that's before even thinking about the environmental and health benefits of e-bikes!
READ: Living with an e-bike
Ride further, ride longer, ride faster: All cyclists, no matter their level of fitness, have their off days. Days when every pedal stroke seems like a chore, those days when the last few miles of a ride seem to drag on forever. Switch things up with an electric hybrid bike, and whilst we can't guarantee you'll enjoy every single mile, we can guarantee that you'll squeeze every single drop of enjoyment from a ride. From that hill you always had to walk up, to that café along the towpath that was just out of reach – electric hybrid bikes extend your riding horizons.
Rediscovering the joy of cycling: If you've stepped away from cycling and not ridden a bike for years, an electric hybrid bike is a fantastic way to jump right back in, whatever your age. Their versatility and comfort not to mention the electric assistance will ease you back into life on two wheels.
READ: Hybrid bikes buyer's guide
Like the sound of things so far? Read on.
What is an electric hybrid bike?
A cross between electric road bikes and electric mountain bikes, hybrid e-bikes offer something for everyone. A bike that's as capable of zipping around town as well a weekend ride into the countryside.
Before we look at hybrid electric bikes in more detail, let's go back to basics. Electric hybrid bikes aren't electric scooters or motorbikes and they certainly don't have an accelerator! Every e-bike sold in the UK that meets current legislation features an assistance motor which provides extra oomph to your pedal stroke, up to a speed of 15.5mph. You can ride faster than this, but at speeds higher than the limit, the motor won't provide any additional assistance.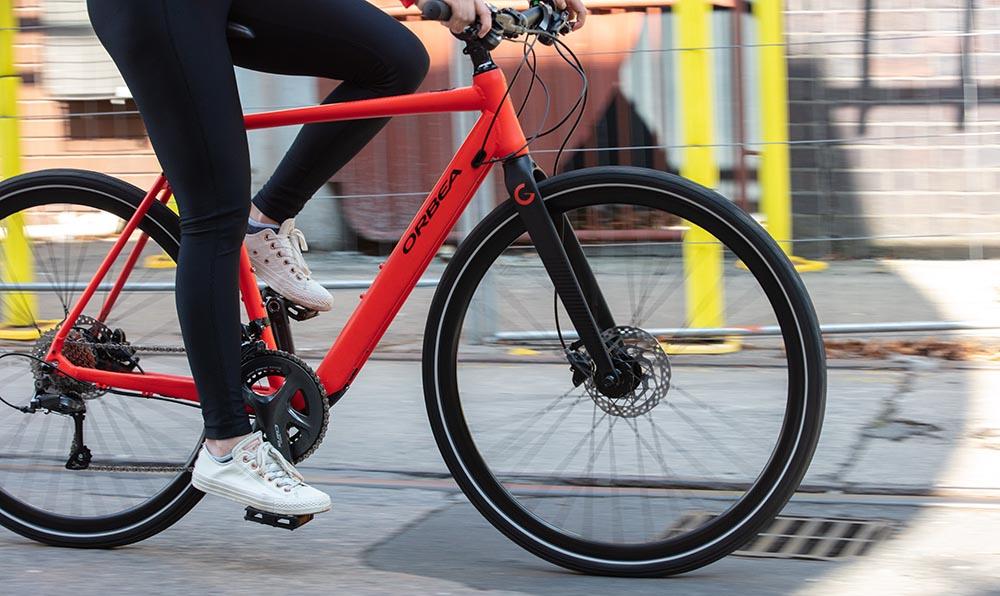 For a further introduction to electric bikes, have a read of our 'what is an e-bike?' article.
There's a good deal of variety when it comes to electric hybrid bikes, but there are several features that are ubiquitous.
Flat handlebars: Offering a comfortable, 'heads-up' riding position, all electric hybrid bikes have flat handlebars. Some 'bars will sweep towards the rider at the end – this classic Dutch style offers real comfort as you ride.
Disc brakes: Disc brakes, whether cable or hydraulically operated, will bring an electric hybrid to a stop in a safe, controlled manner. Plus, they're great in all weathers.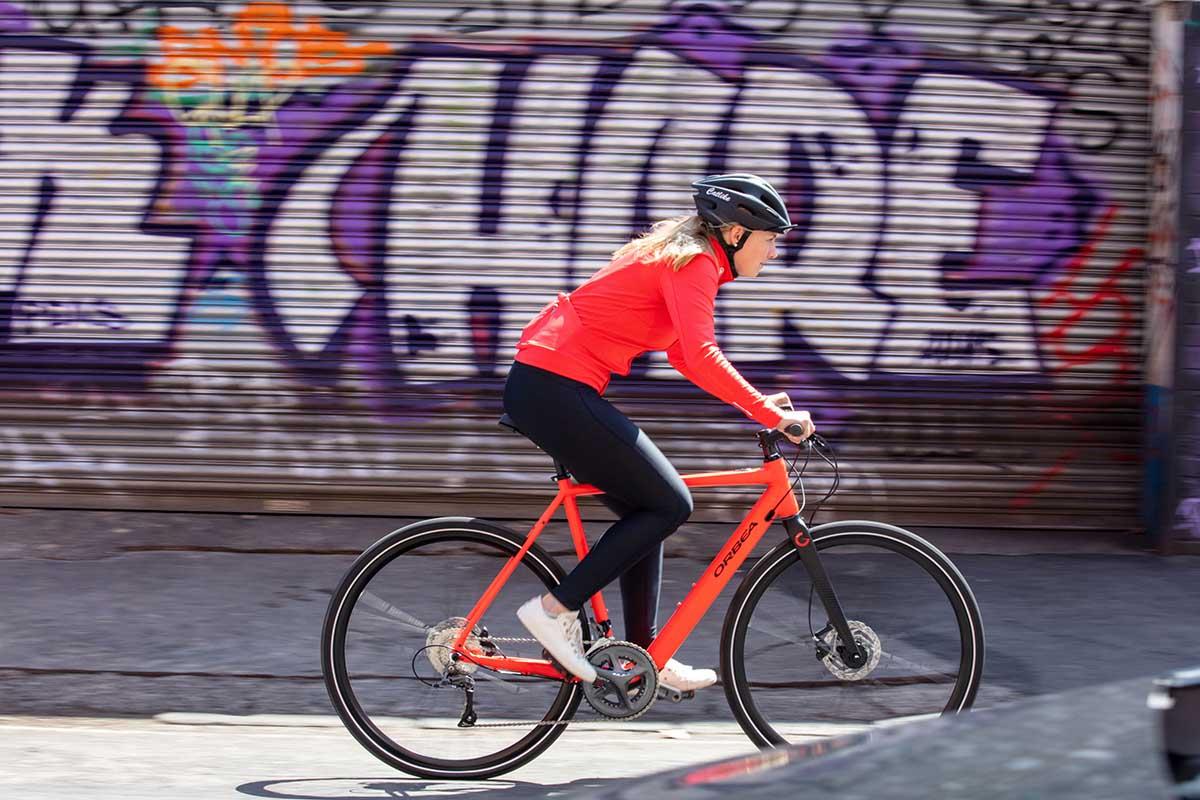 Wid-ish tyres: Most electric hybrid bikes run wide tyres. The extra rubber between wheel and road helps absorb vibrations as you ride along, with the added benefit of enabling you to head away from the tarmac and onto to some rougher stuff should you so wish.
Mudguards, pannier rack, lights and kickstand: At the very least most electric hybrid bikes have mounting points for mudguards and a pannier rack. Want to ride come what may? A hybrid e-bike with 'guards, rack, lights and kickstand is perfect for every cycling eventuality. Fixed lights on hybrid e-bikes are common because most e-bike power systems have a separate lighting circuit which can be controlled from the e-bike display unit.
That should give you a general picture of an electric hybrid bike, now let's look at differences between models.
Frame: Here at Cycle Republic we sell electric hybrid bikes that are usually one of two frame types. A step-through, or low-step frame, is ideal if you're in no rush to get from A to B, with plenty of stops on the way. The design makes the bike easy to mount and dismount.
Meanwhile, a crossbar model will be inherently sportier thanks to the geometry of the bike. That's not to say they're solely for athletic types though. Gently sloping or kinked top tubes increase the standover height of the bike, aiding control when you hop in and out of the saddle.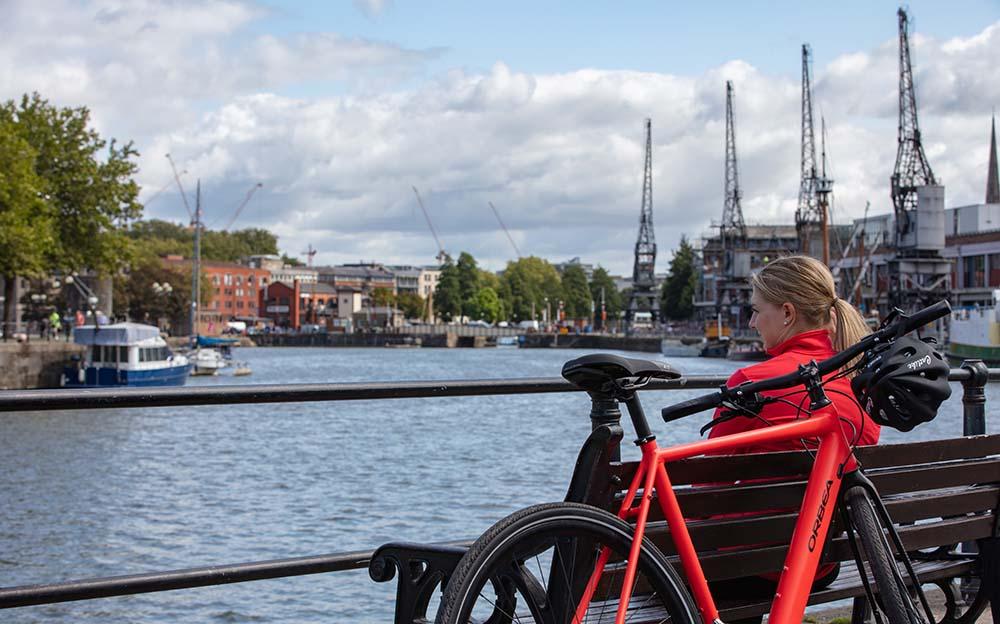 Suspension: Many hybrid e-bikes have a suspension fork to extend their versatility. If you picture yourself riding on some bridleways, light singletrack or bumpy gravel roads then an electric hybrid bike with a front suspension fork might be the way to go.
That said, the state of many UK roads means that suspension wouldn't go amiss on most city thoroughfares. And when the tarmac does run butter smooth, most hybrid e-bike suspension forks have a lockout feature that prevents the actuation of the suspension.
How is an electric hybrid bike powered?
Hybrid electric bikes are powered by a motor, which takes its power from a battery. At the cheaper end of the spectrum, the motor will be placed in the rear wheel, whereas more expensive models use a motor placed at the crank.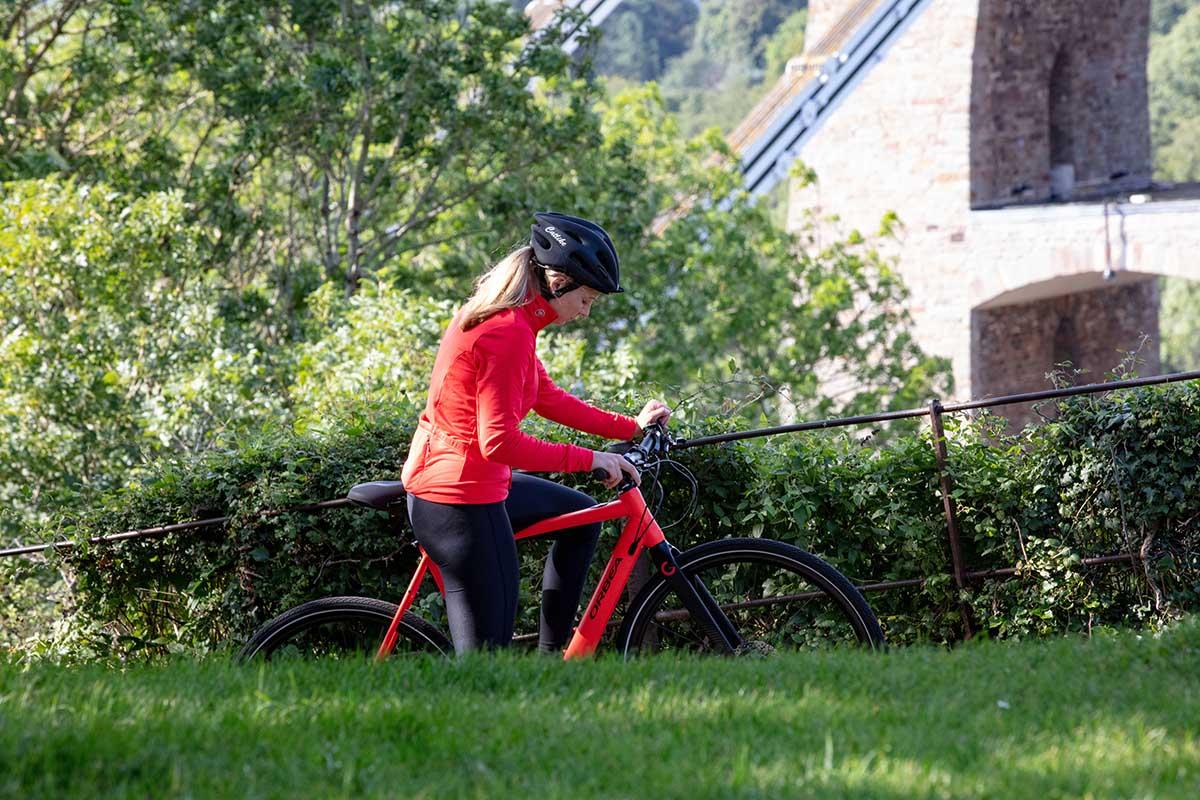 These mid-drive motors include a torque sensor which measures the power you're putting through the pedals and rations it accordingly. This extra technology is worth your hard-earned cash as it, in turn, leads to a more natural riding experience and less of an 'on-off' ride feel.
READ: A guide to 2020 Bosch e-bike motors, batteries and displays
Most hybrid e-bikes feature allow you to alter the level of electric assistance. A control unit on the bike's handlebars enables you to cycle through each mode, increasing or reducing the output of the motor as necessary. This is perfect if you're loaded with shopping and that hill is approaching, or you're looking to conserve battery power on a long ride.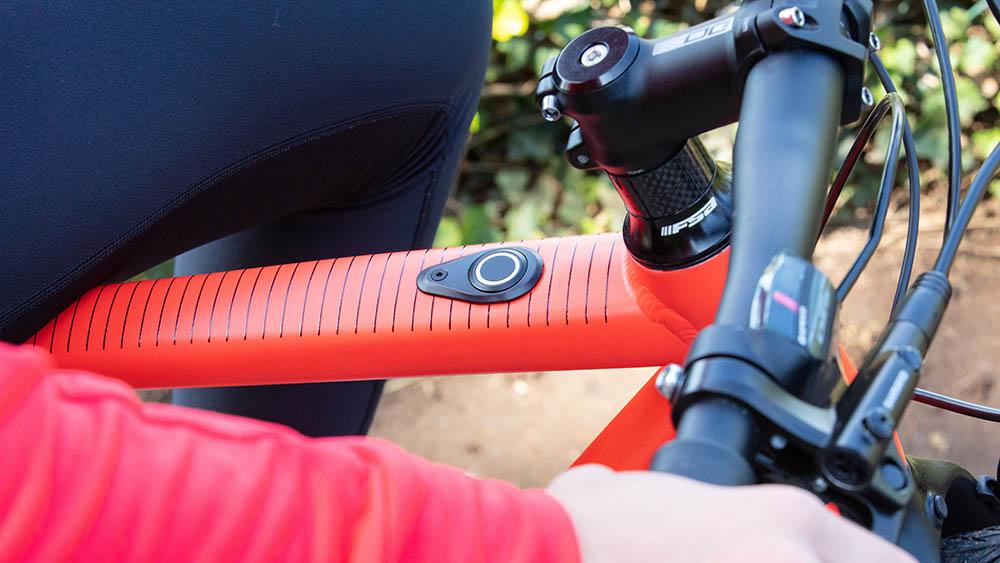 E-bike systems from Bosch, Shimano, Yamaha, Ebikemotion and Fazua also have a walk mode. Useful when you're wheeling your bike up an incline or simply pushing it down the garden path with the weekly shop weighing you down.
Electric hybrid bike range
Along with the motor, the battery on a hybrid e-bike is the most important (and most expensive!) component. In this instance, bigger really is better.
Most batteries these days are between 300wh and 500wh, which depending on the level of assistance, will give you a range of between 15 and 120 miles. And remember, if you do run out of juice, you can still ride the bike just like any non-electric two-wheeler.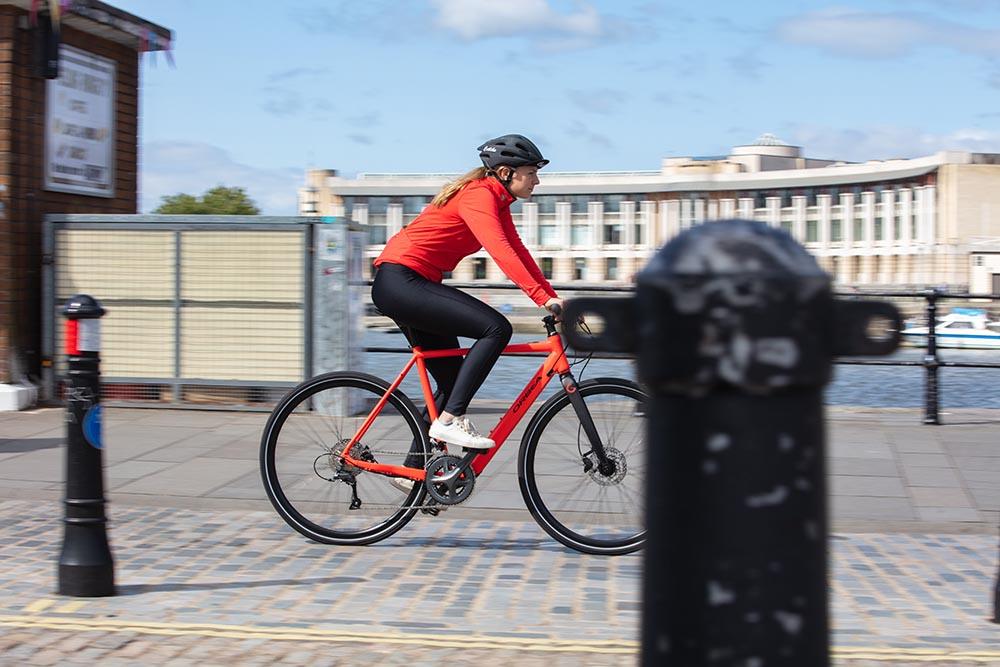 That marks the end of our guide to hybrid e-bikes.
Ready to get stuck in, start shopping our range of electric hybrid bikes or pop into your local Cycle Republic store.
Harbouring a burning question? Do your worst in the comments below.