Swipe to the right
Electric mountain bikes have tended to get a bit of a bad rep but we're not really sure why! After all, mountain biking is about having fun and what's not exciting about enjoying the ascents as well as the descents? In this guide we'll take you through the things you should consider when it comes to purchasing an e-MTB of your own.
Electric mountain bikes come in hardtail and full-size variations. You won't notice too much difference between bikes like this Haibike and your standard non-electric mountain bike.
Finance is available on specified orders with a minimum loan amount of £250 and is subject to your status, please note that acceptance for finance is not guaranteed; see Eligibility for Finance.
The things you will notice though are 1X drivetrains, wider tires, and a skid plate to protect your motor. Electric mountain bikes are super popular right now and for good reason! It opens up the whole world to you, gives you a bit of help getting up that steep bit, to crest that summit and let gravity take its effect.
Electric mountain bikes can come in two different sorts of power. Hub drive or motor drive. Hub drives tend to be at the cheaper end of the mountain bike spectrum, whereas motor drives, on bikes like this, one react to the amount of power that you put through the pedals and adjust to it accordingly.
Electric mountain bike battery life is dependent on so many different things your choice of tires the terrain, even what gear you use but to combat that you've got lots of different modes. Don't worry though most of them will allow you to go full-on for a good couple of hours.
Electric mountain bikes all that little bit heavier what that means is that your tires can have a tendency to deflate a little bit more frequently it's also a good idea to pay close attention to the connectors to the head unit and to the motor. Any issues and our workshops are there to help you.
If you're at the beginning of your e-bike journey we recommend starting with our electric bikes buyer's guide, but if you've already got your heart set on an electric mountain bike, let's begin with a quick summary.
We tend to categorise e-MTBs into two: hardtail and full suspension. Both types are similar to standard non-electric mountain bikes but with the addition of an electric motor which will assist with forward momentum as you pedal. Don't forget, the assistance will only be there up to 15.5mph, the legal limit for electric bikes of any kind here in the UK.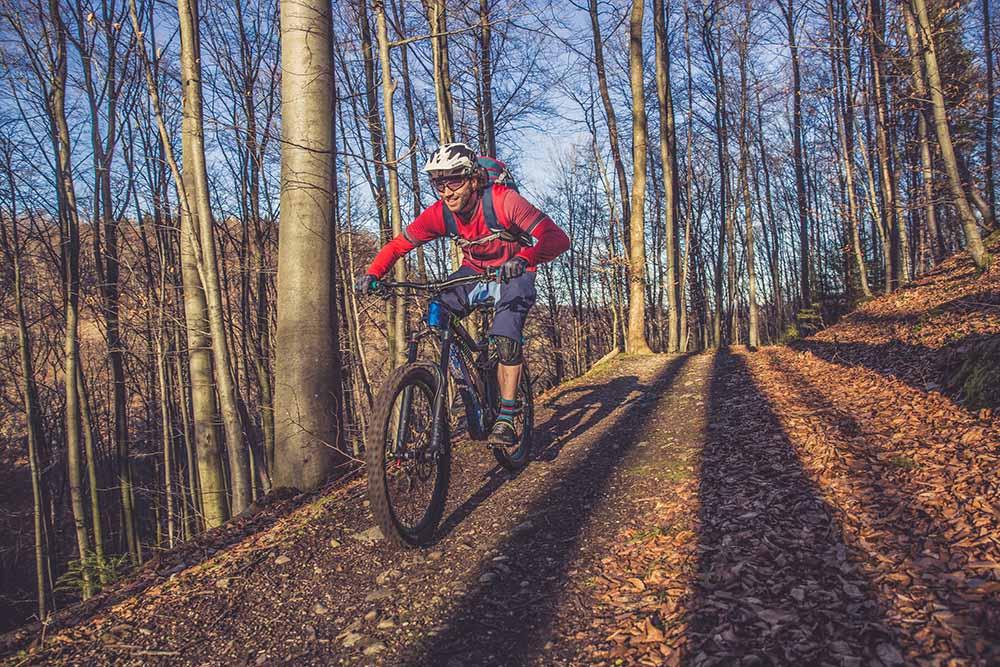 Move towards higher end e-MTBs and electric systems become more complex, and motors, batteries and cables morph into the bicycle's frame. The componentry also starts to get updated with improved gearing, braking and suspension systems. Read on to take an in-depth look at each type, the electric systems that power these bikes as well their components.
Hardtail Electric Mountain Bikes
Hardtails feature a suspension fork at the front and a fully rigid frame at the rear. Keeping things simple with just front suspension means these bikes are easy to ride, lighter than comparable full suspension bikes and maintenance is a little simpler.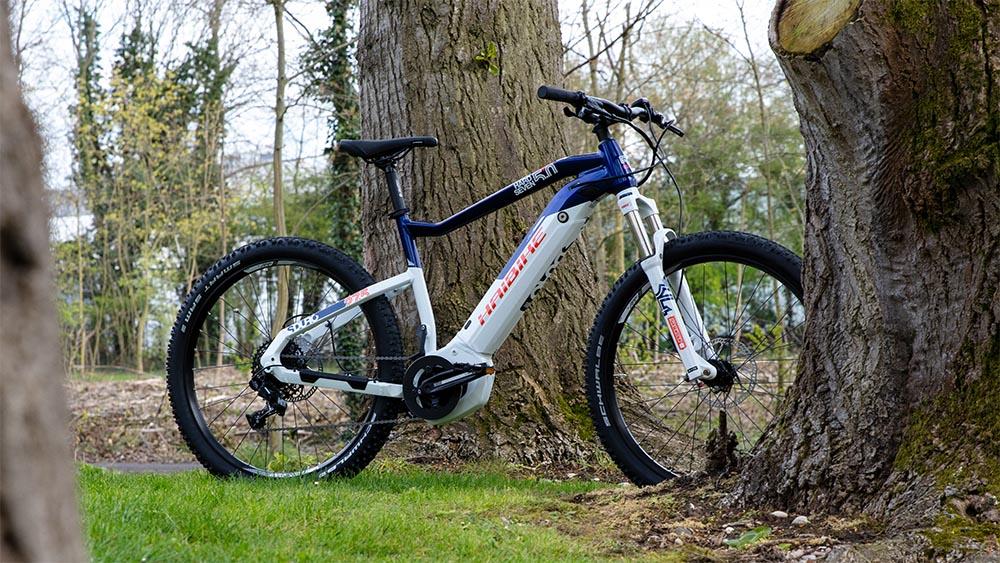 Electric hardtail mountain bikes are best suited to lighter trails. Rides that involve plenty of hard-packed lines at your local trail centre with a dash of gnarly stuff thrown in to get your pulse racing.
Of course the electric assistance means that you'll still be flying as the trail flattens out or rises skyward, so don't be surprised if you find yourself enjoying your local loop twice before you head home for the day.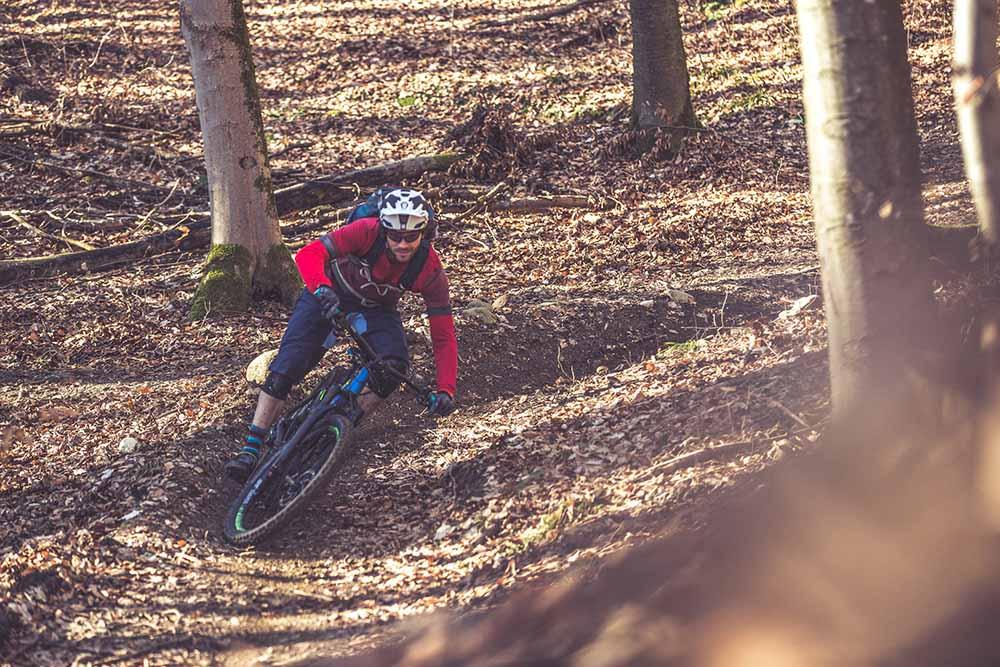 These models also make for great utility bikes. Commuters will love them if their route involves some off-road sections, slippery paths or bridleways. Zip to and from and work without breaking a sweat during the week and then go all-out at the weekend.
Full Suspension Electric Mountain Bikes
Full suspension electric mountain bikes turn the dial up a notch. Adding a rear shock means both ends of the bike absorb bumps and obstacles more easily, theoretically adding more grip as you ride.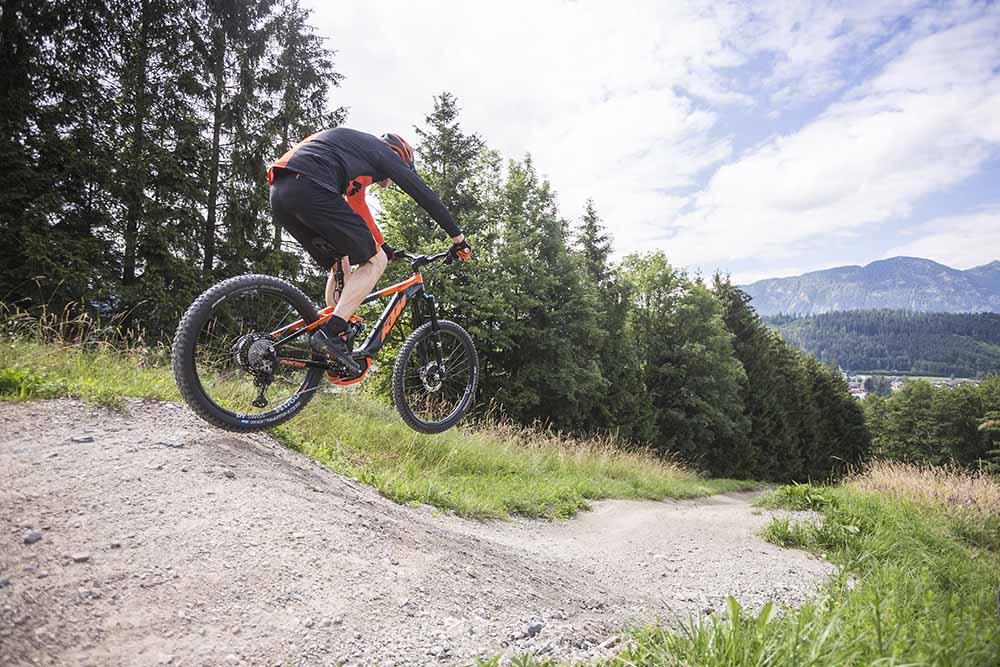 As a result these bikes really come into their own when things get more extreme. The full suspension setup helps as you hit rough, technical sections and the motorised assistance kicks in as you accelerate out of corners or up steep rises.
If you like exploring the edge of grip, tackling the trickiest of lines or really bombing down trails and also want to get more out of your riding then a full-suss e-MTB is for you.
How is an electric mountain bike powered?
The 'electric' part of an electric mountain bike is formed of two things. A motor, placed either at the hub of a wheel or at the cranks and a battery which is usually located on or in the downtube of the frame. As you ascend through a range you'll find the motor positioned at the cranks. Putting it here helps lower the centre of gravity of the bike (crucial for handling), offers greater efficiency than a wheel based motor as well as the option to include a sensor which monitors the power you put through the pedals and rations the output accordingly. This really helps to conserve your battery levels when you are out for a big day on the bike.
Speaking of which, the sort of battery your e-MTB is equipped with will determine how long or you can use the assistance or how far you can ride. The size of a given battery is measured in Watt hours (Wh) or Amp hours (Ah) usually alongside an estimated range figure. Bear in mind that hills, speed and rider weight amongst other factors will affect range performance.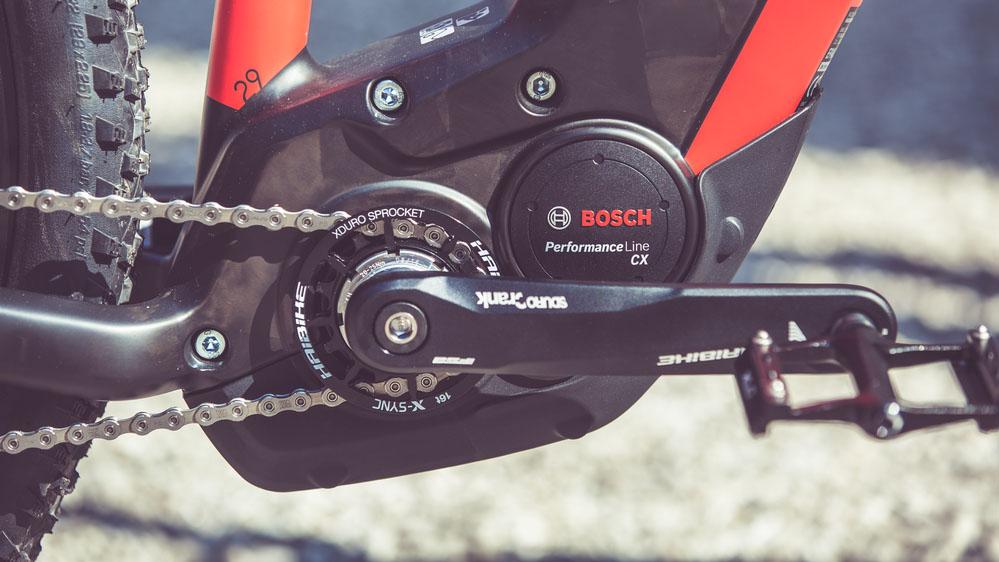 A head-unit on your bike will let you choose from different assist levels, ideal when you need a helping hand up the big climb on your route. More sophisticated electric bikes will feature an intuitive head-unit that can display useful numbers such as speed, distance travelled and battery life amongst other figures.
If you finished reading this section and you're worrying about taking your e-MTB for a wet, muddy session let us allay those fears. Electric systems that are fitted to mountain bikes are closed and require very little maintenance. The connections between head unit, battery and motor are such that they are very unlikely to be affected by water ingress, mud or corrosion. For more read our 'Living with an e-bike' feature here or head to our service section to learn more about our e-bike specific servicing.
Electric Mountain Bike Components
Once you've got to grips with the electric element of e-MTBs it's time to delve a bit deeper into the components that get fitted to these bikes. Brakes and drivetrains are what you'd find on standard mountain bikes, mostly from market leaders Shimano and SRAM, but here are a few things to look out for.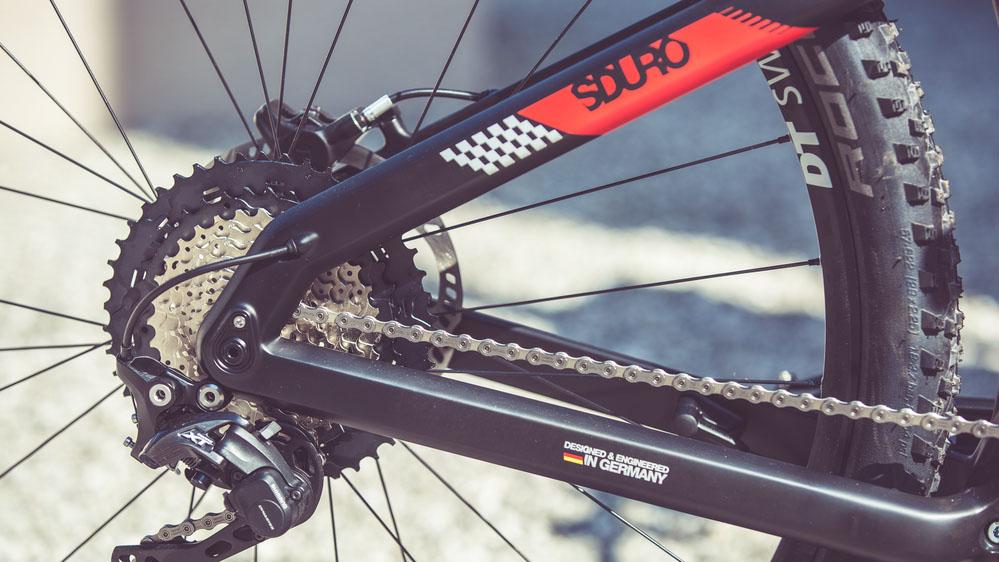 Suspension – Measured in millimetres, the travel of a suspension system is how much it can compress when it hits an obstacle. Due to a slight increase in weight, electric mountain bikes tend to have a greater amount of travel, front and rear. 120mm isn't uncommon on hardtails with 140mm (front and rear) not unusual on full suspension e-MTB's.
Dropper seatposts - Just whisper the word 'dropper' in our office and you'll quickly hear responses like "game-changer" and "wouldn't ride MTB without one now" – some praise then. Dropper posts give the rider the ability to climb comfortably in a seated position (you're going to be enjoying the climbs on your e-MTB we can assure you!) and hit the downhills with the saddle out of the way.
Wheels and tyres – Increased speed + heavier bike = wider wheels and tyres. Not an equation my maths teacher would be happy with, but a simple explanation of the reason so many electric mountain bikes run 'plus' sized tyres. Plus means an increase in air volume and a greater tyre surface area, crucial when you've got the hammer down.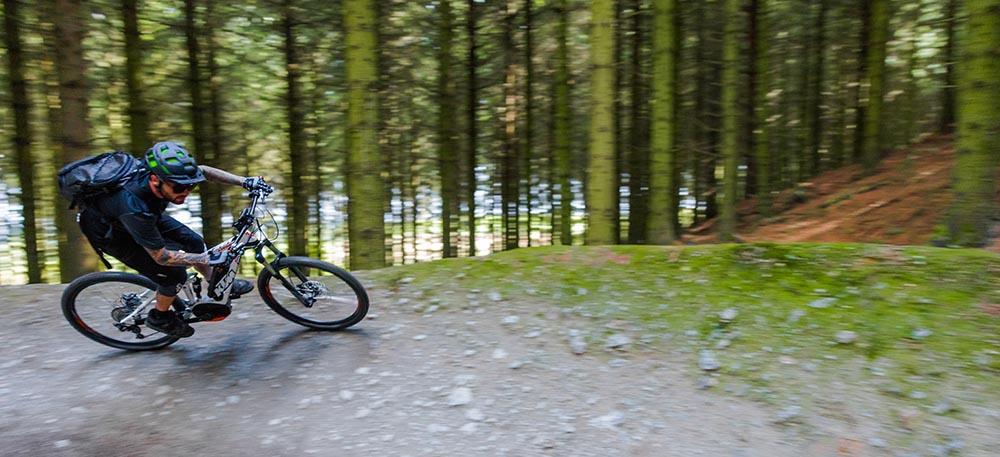 Convinced? Experience the thrill of an electric mountain bike by taking one for a test ride at your local Cycle Republic shop. Trust us, when you feel that assistance for the first time you'll be sold!
Know what you're looking for? Get started by browsing our range here.