Electric road bikes buyer's guide
If you're in the market for an electric road bike you're in the right place! This buyer's guide explains the e-road bike basics, why you might want one, how they're powered as well as other buying pointers.
Why should I buy an electric road bike?
If you've found your way here, you probably know a thing or two about electric bikes, but if you're not clued up, our 'what is an e-bike?' article is a great place to start.
We digress. Here's why an electric road bike might be of interest…
Extra juice for weekday commutes: Say you live over an hour away from work by bike and hate the thought of getting up at the crack of dawn to pedal in. An electric road bike, with that extra soupçon of riding assistance, should see your commute time cut down substantially.
Ride further, faster, longer: Mountain bikers have long enjoyed the benefits of e-bikes. More speed, more thrills, plus the chance to ride loops at your local trail centre two or three times before heading home.
Electric road bikes have the potential to do the same for roadies, enabling us to ride further, faster, for longer. Weekend loops can become more circuitous, after work spins can take in more roads and of course going faster really is more fun. Ultimately, electric road bikes help you enjoy what you most love about road riding.
A splurge of power for those climbs: Challenging road rides are great, but even the fittest roadie will admit they've ridden a route with one hill too many. Electric road bikes are perfect for those days. The invisible, helping hand of electrical assistance is a godsend when the gradient rises, and your legs refuse to turn.
Sounds good, right? Next, we'll look at electric road bikes in more detail.
What is an electric road bike?
So, what are we talking about when we say, 'electric road bike'? Ten, maybe even five years ago, electric road bikes certainly wouldn't have won any design contests. Today, it's a very different story.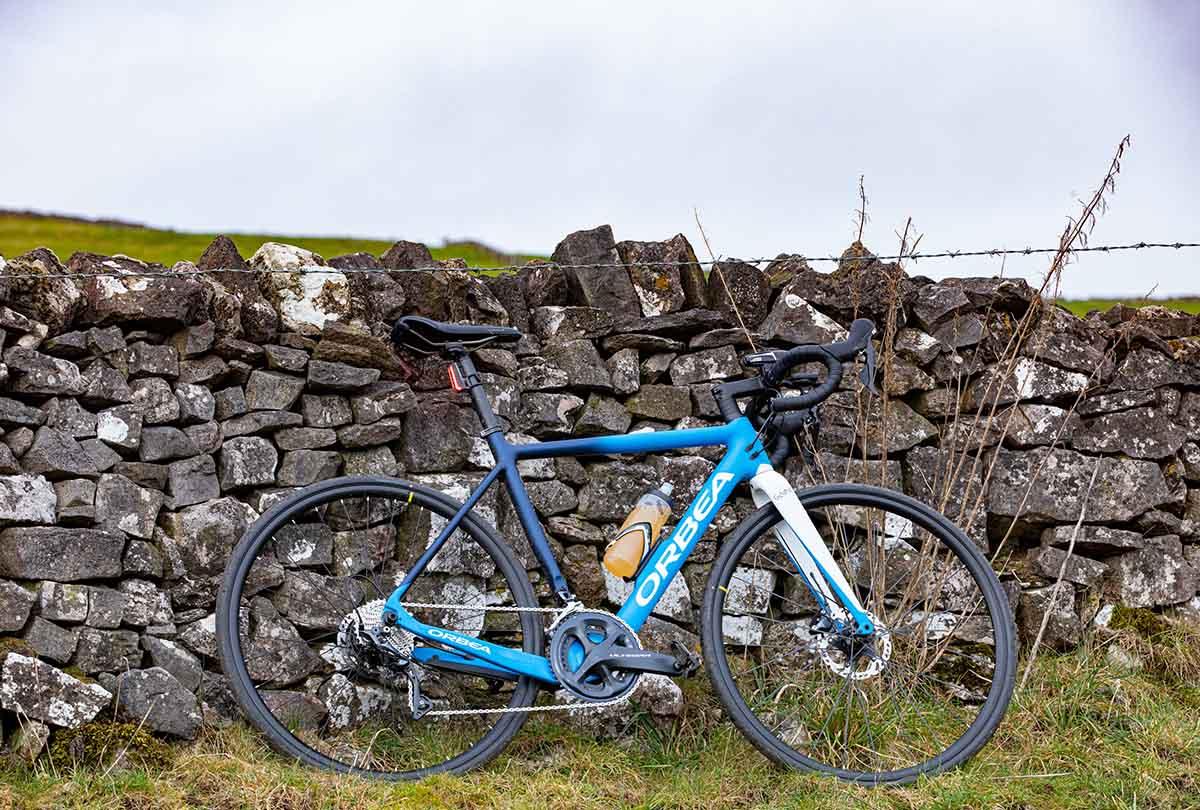 E-road bikes are not simply a road bike with a motor, they're designed from the ground up. Manufacturers aim to retain the look of a traditional road bike – the classic two triangle design, drop bars – with the merest hint of electrical gubbins. The design nirvana? Having battery, motor, wiring and sensor all completely integrated.
Most electric road bike frames are made of aluminium, but carbon fibre is becoming increasingly popular at the top end of the market.
Disc brakes on standard road bikes continue to gather momentum and they're a given on e-road bikes. The added weight of an electric bike means that disc brakes are a no brainer for bike designers. Disc brakes provide better, more controlled stopping power than rim or caliper brakes so you'll see them on all of our electric road bikes.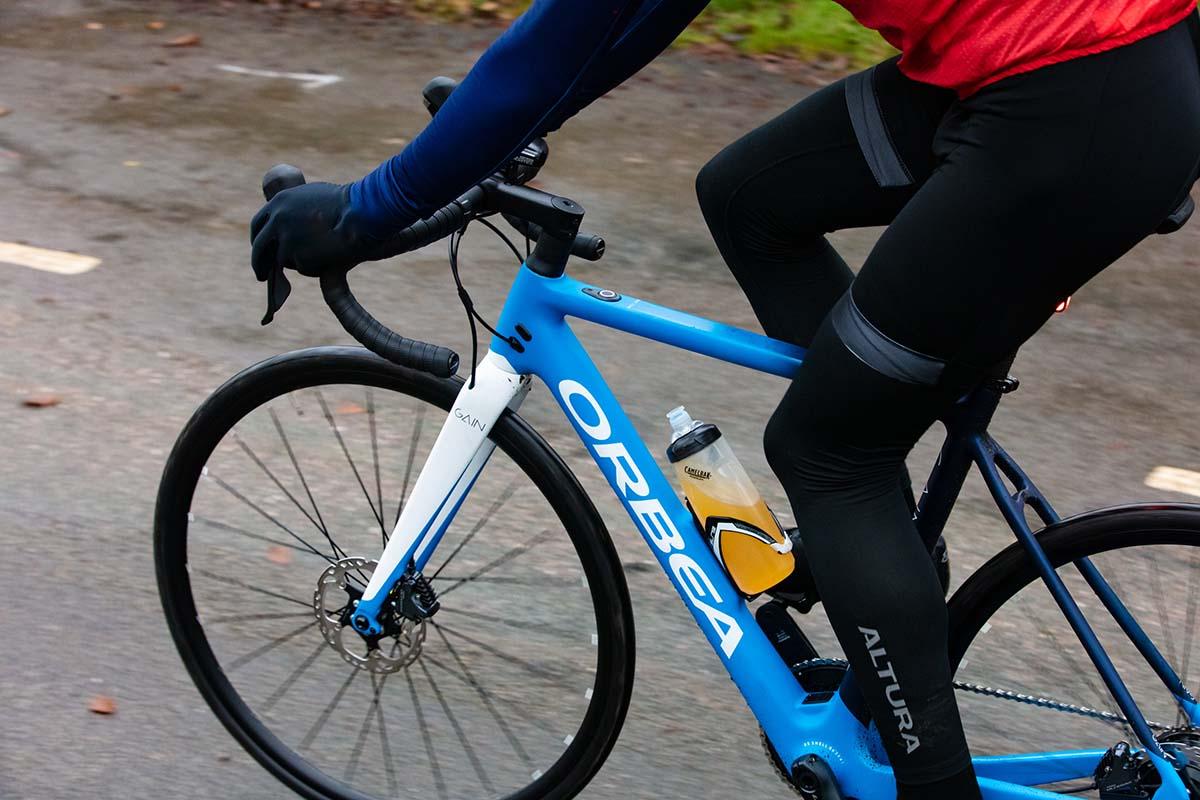 Wide tyres are common too. E-road bikes are more likely to roll out of the factory on a set of 700x28c or 700x32c tyres, rather than 700x25c. The added weight of an e-bike dictates that some rubber with more squish will aid ride comfort.
How is an electric road bike powered?
When you pedal an electric road bike, a motor kicks in and helps out too, up to a speed of 15.5mph, the legal limit for all electric bikes here in the UK. That motor, placed at the hub of the rear wheel, or at the cranks, is powered by a battery which is located on, or in, the bike's downtube.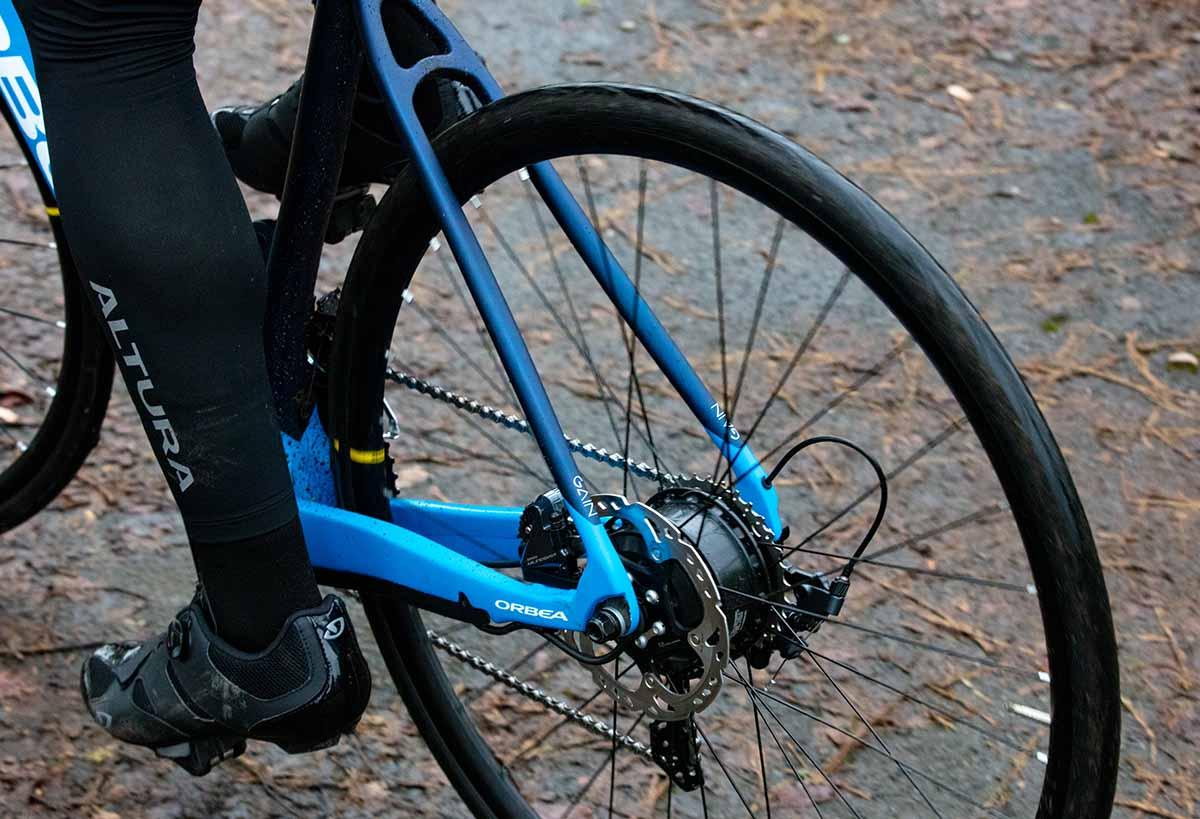 Most electric road bikes offer varying levels of assistance. A control unit on the bike allows you to cycle through the various modes, shackling or increasing the electric motor's power output. Perfect when you're staring at a 20% gradient or simply looking to conserve power on a big road ride. And if the power does run out, electric road bikes are still bikes - you can pedal along just like normal.
Most motor systems pair with a smartphone app offering diagnosis, slight adjustment and other information.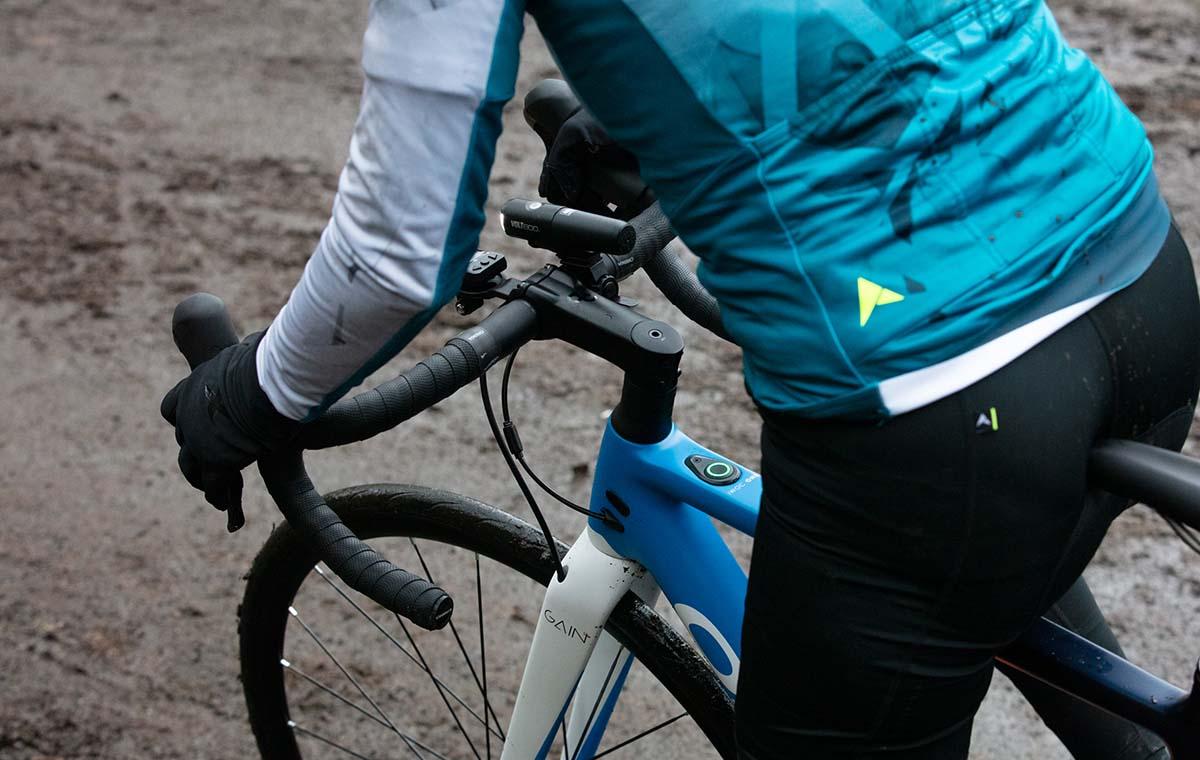 It's also worth noting that e-bike motors from Bosch, Fazua, and Ebikemotion have their own characteristics; variances in power delivery, efficiency at various cadences as well as the sound they emit. Couple that with modifications in bike weights, geometry and components and you get an idea of the possible differences. Ultimately, there's no substitute for hopping on an electric road bike to get a handle on its pedal assistance and the resulting ride feel.
Electric road bike range
At this point you're probably wondering how far you can ride an electric bike with the assistance on. This is an electric road bike's 'range' and it's determined by the specification of the bike's motor and battery capacity.
Since most e-bike motors output these days is 36 volts, it's the size of the battery that dictates an electric road bike's range. The figure you need to get your head around is: Amp hours (Ah) or Watt hours (Wh). Both are a measure of the capacity of the battery but put crudely, the higher that figure the higher the range.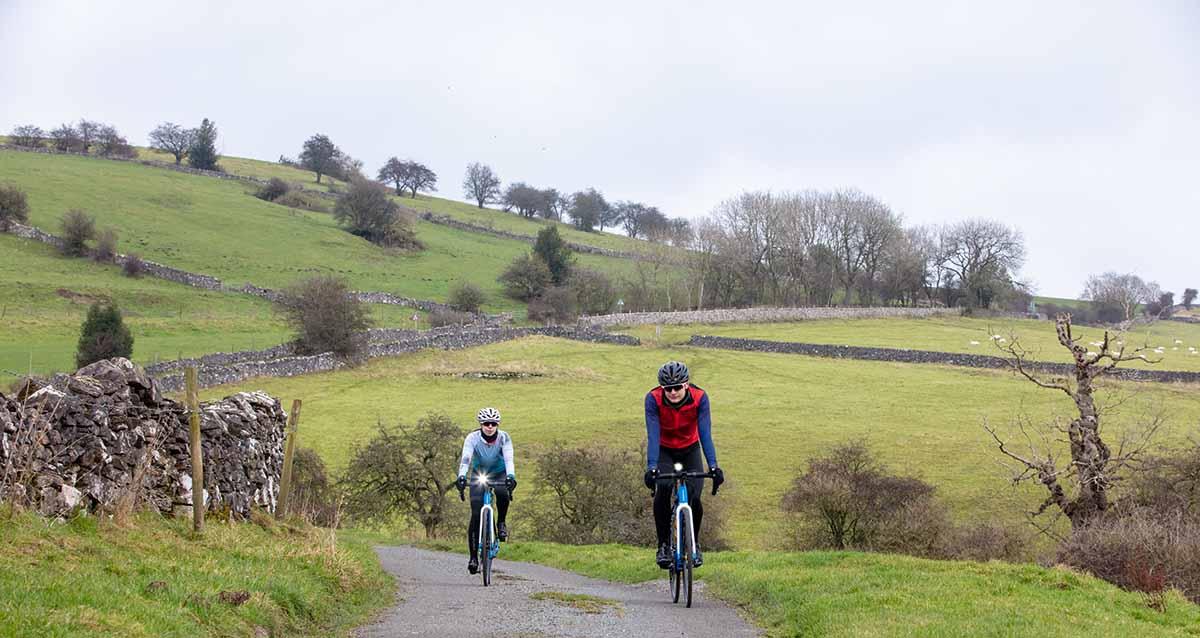 It's worth bearing in mind that alongside battery capacity, there are many other factors that influence range. A rider's weight, body shape and pedalling style, as well as environmental nuances such as road gradient, tarmac condition and weather, can have an adverse, or even favourable effect on range.
As with any bike purchase keep in mind the sort of riding you'll be doing on your new bike. It'd be pointless buying a bike with huge range if your daily rides are far smaller, nevertheless it's a good idea to buy a bike with a range higher than you absolutely need. You'll find that we list a maximum range figure for all electric road bikes to give you a flavour of how far you can push the envelope.
Electric road bike components
Once you've got to grips with the electric part of your desired e-road bike, it's time to delve a bit deeper into the components that get fitted to these bikes. Brakes and drivetrains are usually what you'd find on standard road bikes, mostly from market leaders Shimano and SRAM. As we mentioned previously, you'll notice that all e-road bikes use disc brakes and its not uncommon to see 1x drivetrains either.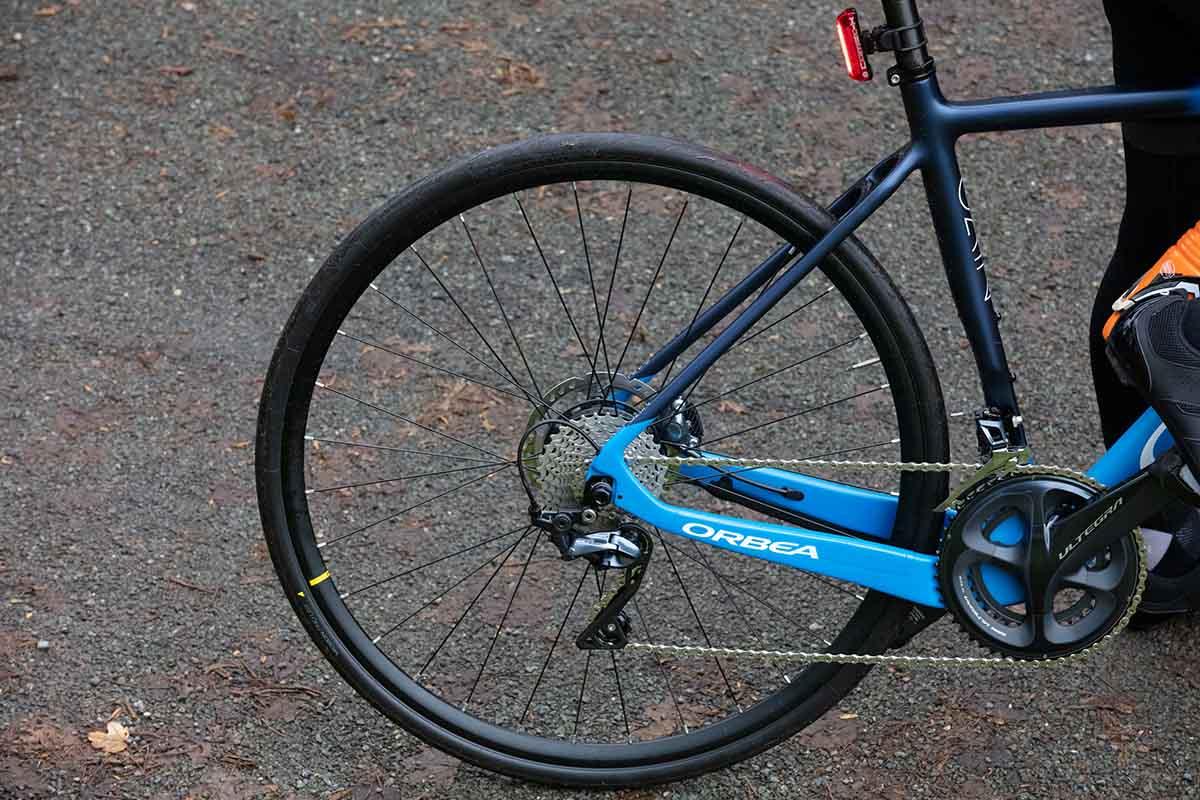 Certainly, bikes that use a Bosch motor will only have one chainring up front, whereas bikes that use an Ebikemotion motor can accommodate a 2x chainset. Gearing does tend to be on the compact side. Many electric road bikes use 50x34 chainrings and 11x32 cassettes to help the rider keep spinning when the going gets tough.
Think you're an expert? Get started by browsing our range of electric road bikes. Or if you'd like to experience an electric road bike for the first time, take one for a test ride at your local Cycle Republic shop. Trust us, when you feel that assistance for the first time you won't look back.
Did we miss something? Let us know in the comments below.