Swipe to the right
A powerful, bang-up-to-date electric motor – tick. A slick, integrated battery – tick. Huge assistance range, sensible gearing, stunning frame colour – tick, tick and tick. If you're on the hunt for a versatile hardtail electric mountain bike the 2019 Haibike SDuro Hardseven 5.0 puts all the right marks in all the right boxes.
We brought it into the Cycle Republic lair to take a closer look.
Haibike sDuro Hardseven Electric Mountain Bike
The 5.0 is part of Haibike's 2019 sDuro HardSeven range. A well-regarded series of eight hardtail electric mountain bikes with aluminium frames and yes, you guessed it, 27.5" wheels.
Haibike sit these bikes in their 'trail' range – models which should cover everything from a morning towpath bimble, to sinuous singletrack session or weekend trail centre smash.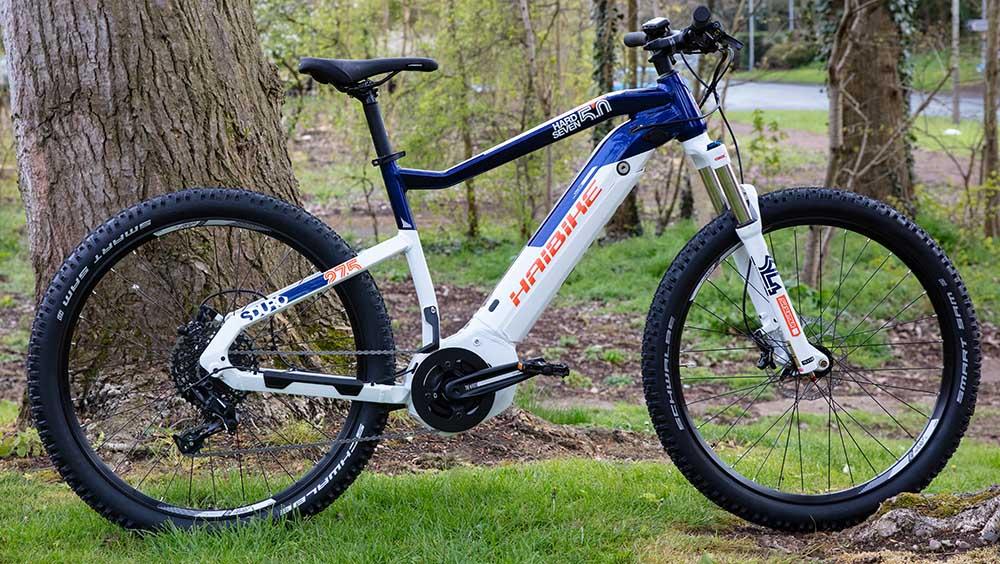 Models marked 'Life' are women's specific thanks to adjusted geometry and there's a street model too - equipped with lights, mudguards and a bike stand. It's worth noting that other bikes in the range use different motor and battery systems, so be sure to pay close attention to each bike's specification before you make that all important decision!
If you need some help choosing, read our electric mountain bikes buyer's guide.

Haibike sDuro HardSeven 5.0
Let's get down to business with a closer look at the HardSeven 5.0, beginning with the frame and electronic componentry. One of the first things that grabbed our attention was the bike's frame design. The top tube leaves its juncture at the headtube, changing angle twice before meeting the seattube. It's not just an aesthetic consideration, this design increases rider standover height, helpful for hopping on and off the bike when you are out on a ride.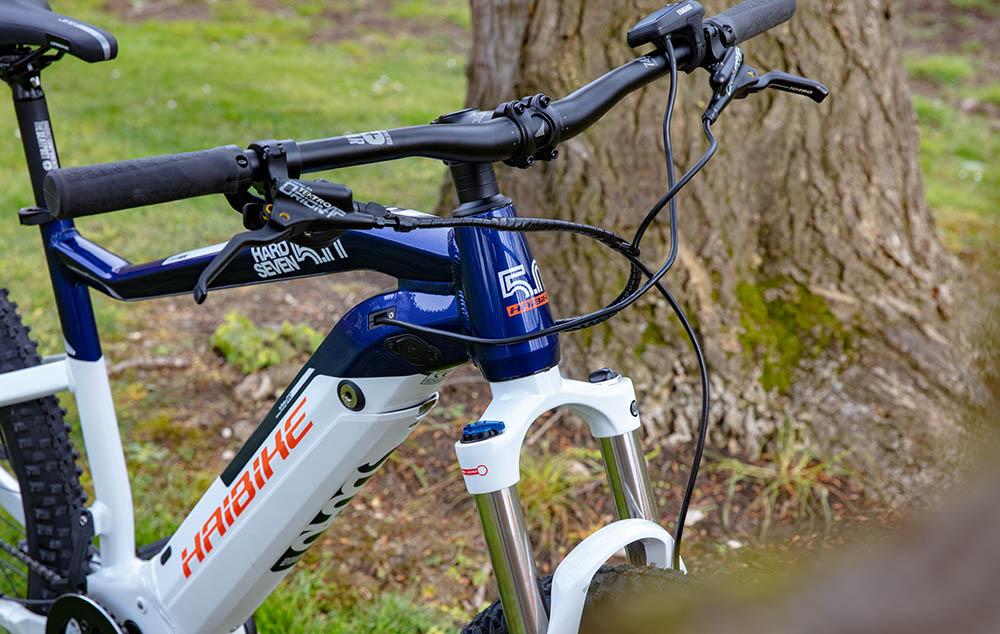 Haibike have a long association with Yahama's e-bike department and have chosen to spec this model with their new PW-SE e-bike system. The new 500Wh battery is super compact (it's located in the downtube) and together with the motor it offers a whopping 140 miles of range in the new Eco+ mode. A further three power modes brings the total to four, allowing you to limit or extend the amount of assistance as necessary.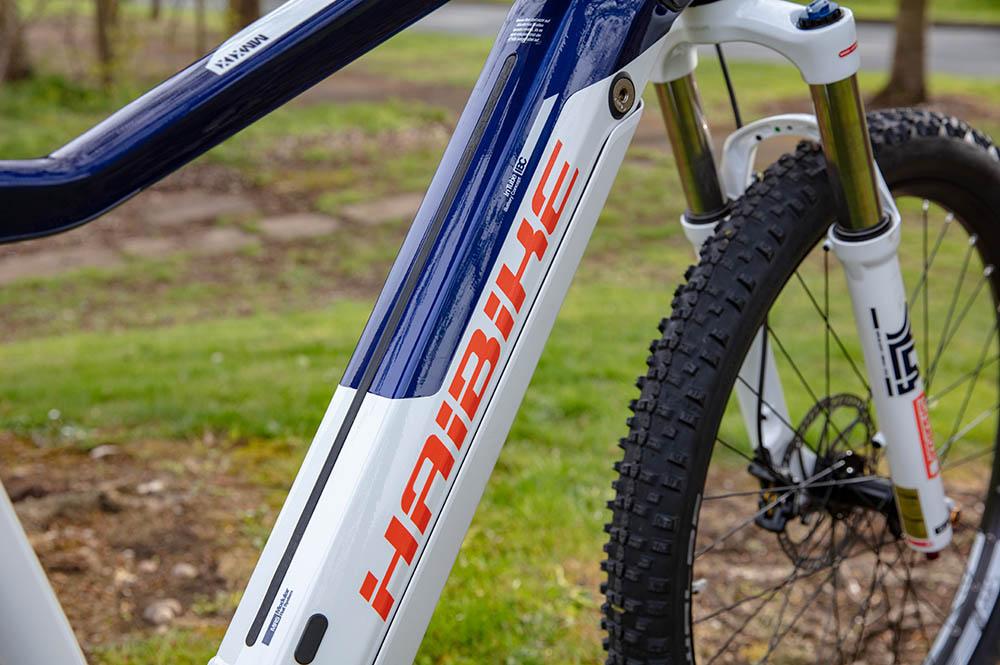 The key selling point of the PW-SE motor is its 'smooth and powerful' assistance. E-bike motors react to fluctuations in cadence and force exerted by the rider and Yahama have done their upmost to even out the assistance, making it powerful, yet easy to control, no matter how hard you're riding.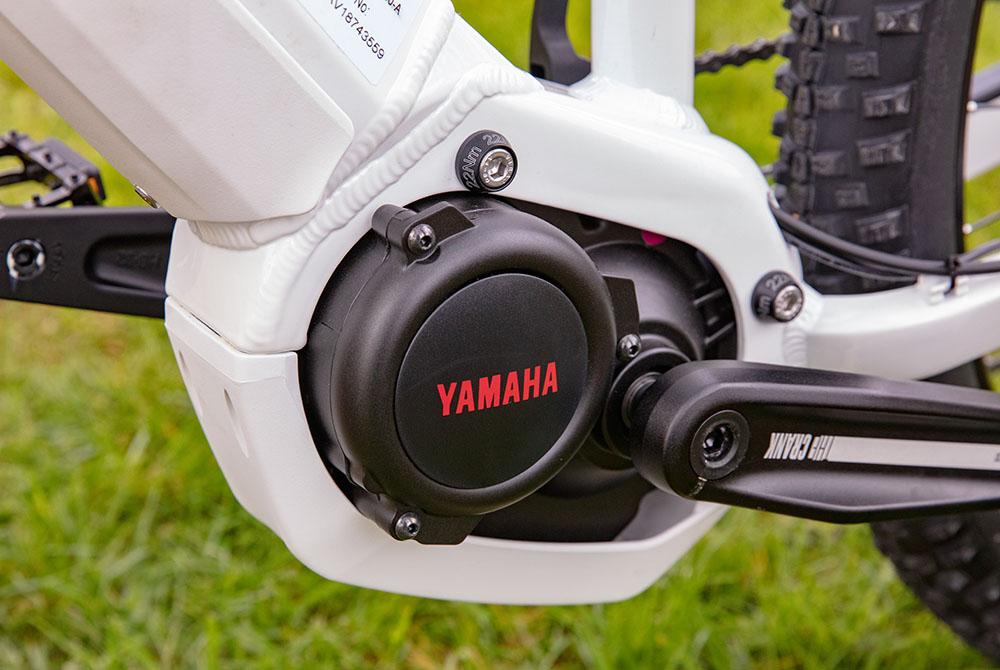 This motor even continues to provide assistance when you spin your legs at 110rpm – something you might be doing when you hit a brute of a climb in the 11x42.
Completing the PW-SE system is Yahama's SideSwitch display unit. Located near the left-hand handlebar grip, this inconspicuous, 1.7" LCD screen displays and controls the bike's electronic gubbins as well as other basic statistics such as current trip distance and all-time odometer. Mounting it here clears space in the centre of the 'bars, something you'll be thankful about when you want to start adding accoutrements like lights and GPS units.
SRAM NX 11 speed gearing, Tektro Orion M745 hydraulic disc brakes and Schwable Smart Sam 2.6" tyres complete the setup. The 2.6" tyres are an excellent choice on a bike of this ilk. They'll cope with the weight of the bike, take things in their stride when you get wild on a descent but won't drag too much if you're going to ride to your local trails and back.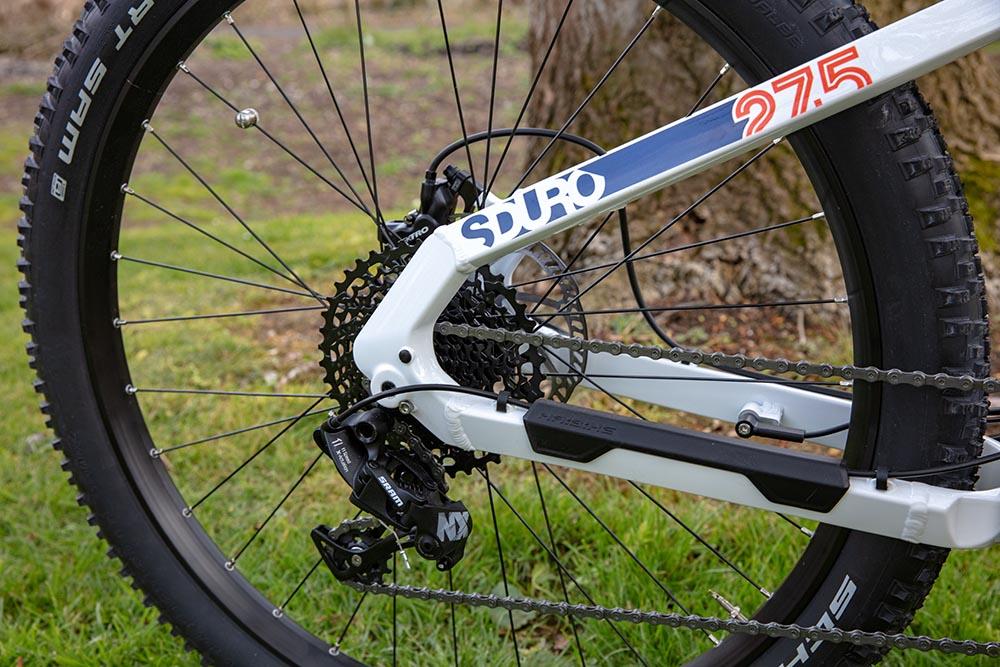 There we have it, a quick perusal of the 2019 Haibike sDuro HardSeven 5.0.
If you're ready to compare some further options, you'll find the rest of our Haibike selection at this link.