Review: Elite Suito Smart Turbo Trainer
It wasn't long ago that indoor turbo sessions were very different to what they are today. Many a monotonous hour was spent staring at a blank wall whilst your ears were pummelled with the sound of rubber against metal.
Turbo training in 2020 is a completely different beast and smart turbo trainers, like the Elite Suito, have completely altered the way us cyclists approach a turbo session. Riders all over the country are arriving home from work, itching to hop on the trainer and enter virtual riding worlds like Zwift and Rouvy.
Arriving on your doorstep all but ready to ride, the Elite Suito has, on paper, all the credentials to deliver a fun, engaging ride. We flipped the lid and gave one a go for ourselves.
Unboxing the Elite Suito Smart Turbo Trainer
Straight out of the box, the first thing you'll notice about the Suito is just how slim the thing is! With legs folded the unit is only, by our calculations, only 14cm wide. Ideal if space in your gaff is limited and you don't want to keep the turbo out all the time. Lay it flat and it'll easily slide under a bed or sofa. Stand it up and it'll slot nicely next to a bookcase or wardrobe.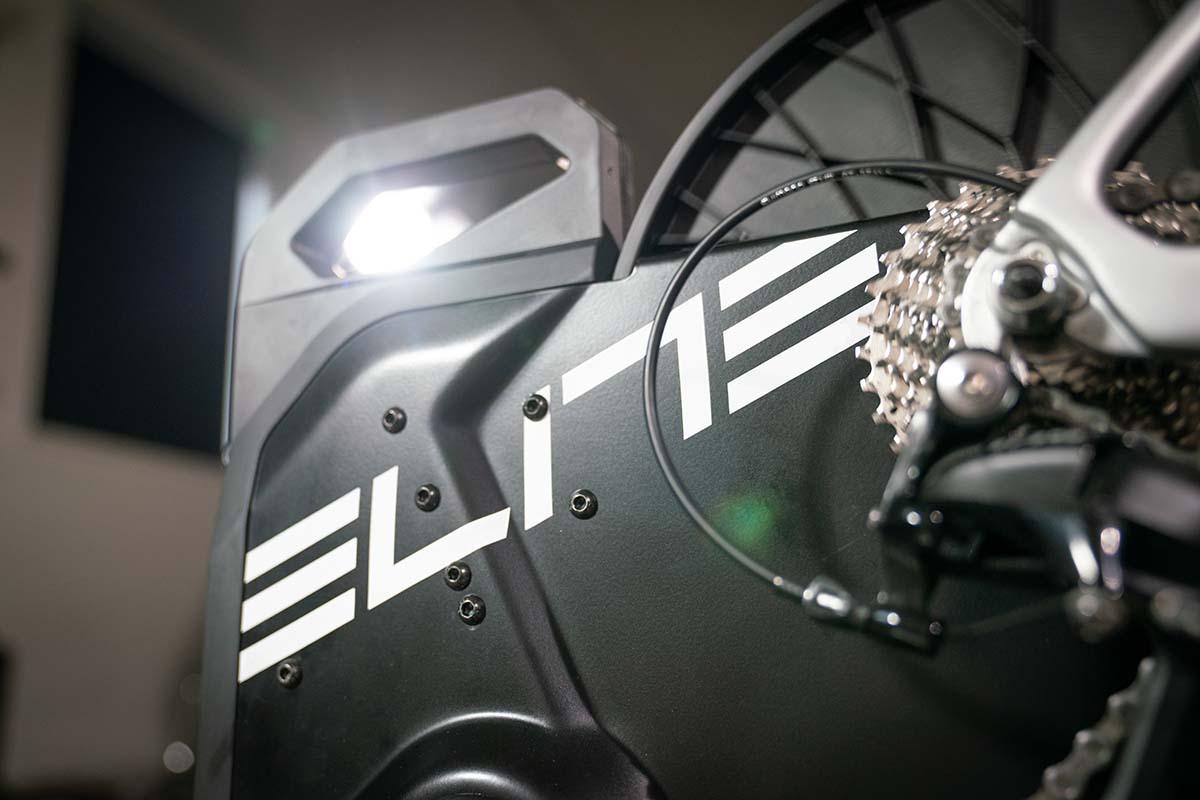 Lifting the Suito out of the box is easy thanks to the carry handle, something which most other turbo trainers lack. It's a well thought through idea by the team at Elite. Like many of you, our turbo setup isn't in place 24/7 so when it comes to packing up after an hour's graft, there's no grappling, no back bending – just a quick fold of the legs, a grab of the handle and you're away.
Adjacent to the handle, three status lights give you an indication of the Suito's connections. One's a power light, one is a Bluetooth connection status and the last is an ANT+ indicator. Train your eye to the rear of the turbo trainer and you'll find where to plug the Suito in. A groove down the middle keeps the power cable tidy when you run it from the trainer to the nearest plug socket.
Now, here's the exciting part. The Elite Suito is shipped to you with an 11 speed Shimano 105 R7000 cassette already attached. That means no faffing around with chain whips, lock ring tools or 'time-out-of-your-day' trips to your local bike workshop. OK, if your bike runs 9 or 10 speed or Campagnolo this isn't the best news, but for many of you, this should be music to your ears.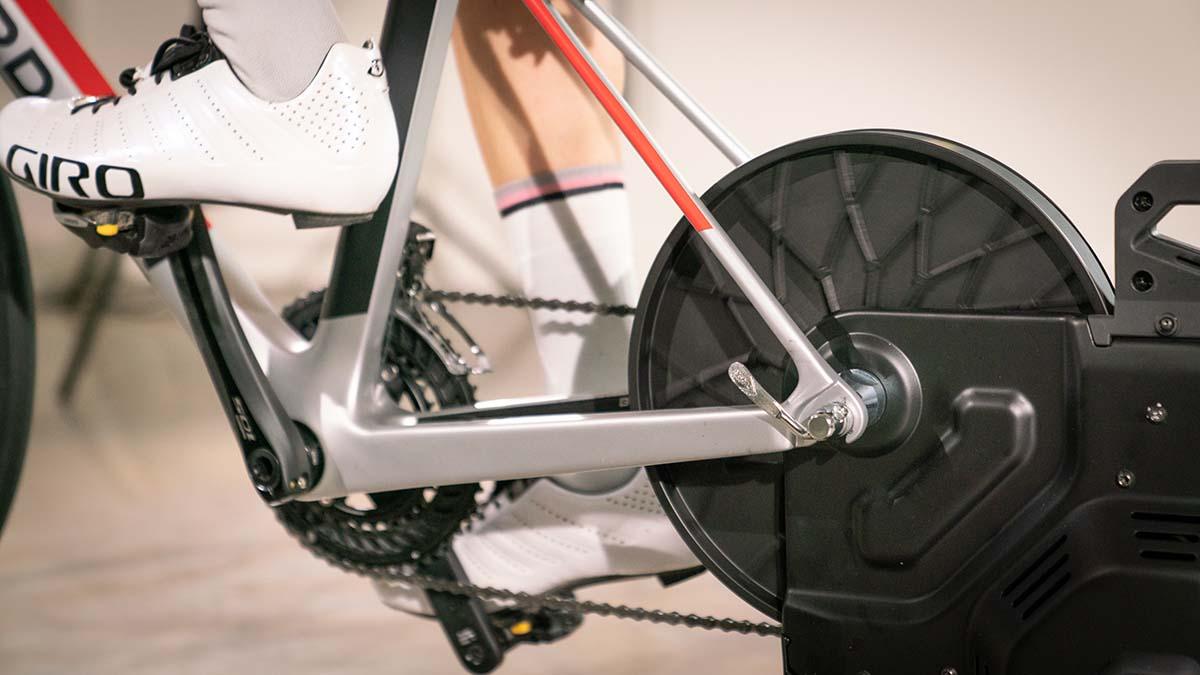 Dig a bit deeper and in the rest of the box, you'll find a front wheel riser, stand quick-release skewers, thru-axle adapters, power charger and details of how to claim your free one-month trial of Zwift. Cool uh?
Now you know what's in the box, let's find out what this thing is like to ride!
Riding the Elite Suito Smart Turbo Trainer
Now we've got the Suito out of the box, it's time to work up a sweat. To swing out each leg you'll need to lift a little tab next to the body of the trainer. Once extended, adjustable feet help you achieve a level training platform – even new floors aren't pancake flat you know – something we found out riding the Suito!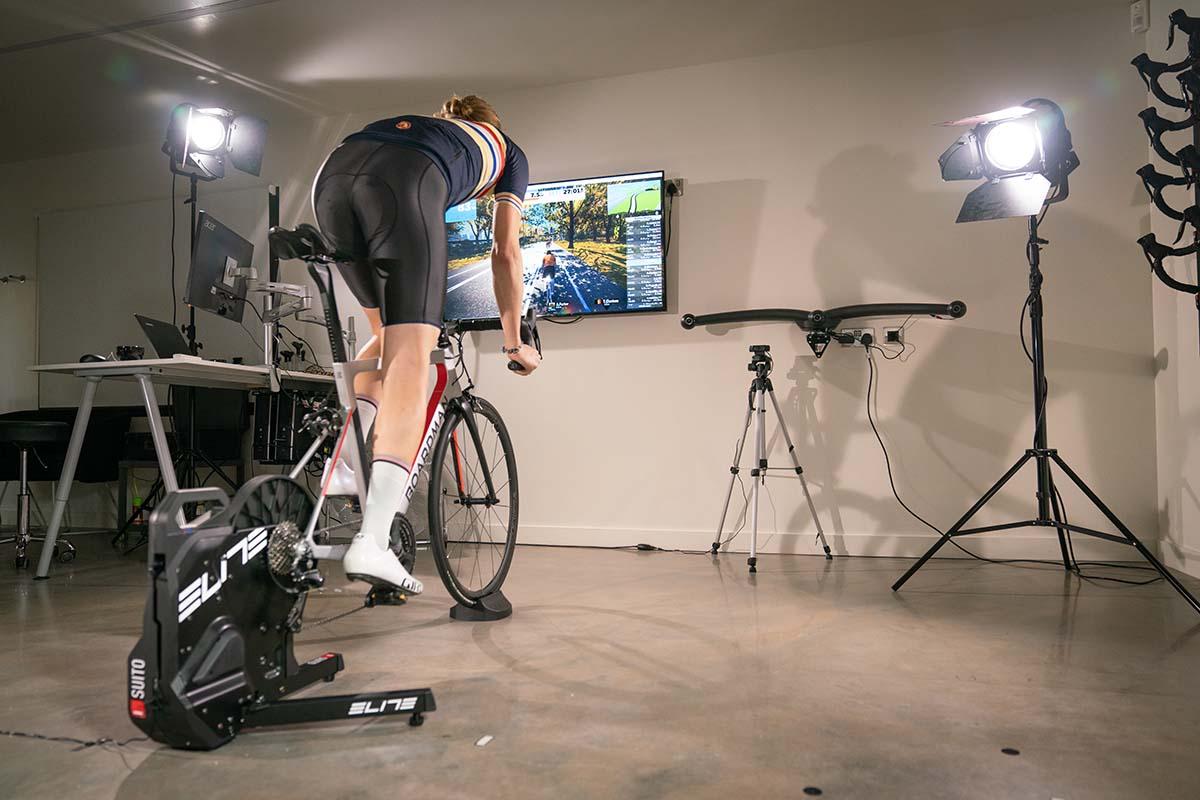 Secure your bike, pop your front wheel in the riser, make sure you've plugged it in and you're nearly good to go. Because the Suito works with both ANT+ and Bluetooth communication channels, the tech setup side of things should be quick and easy. We've tested both. Bluetooth on an iPhone and ANT+ on a laptop. Connection with the Suito was instantaneous and we experienced no outages during our rides.
One other point to note before we move on is Elite's Upgrado and ETraining apps which allow you to customise plenty of detailed Suito settings as well as updating the trainer's firmware quickly and efficiently.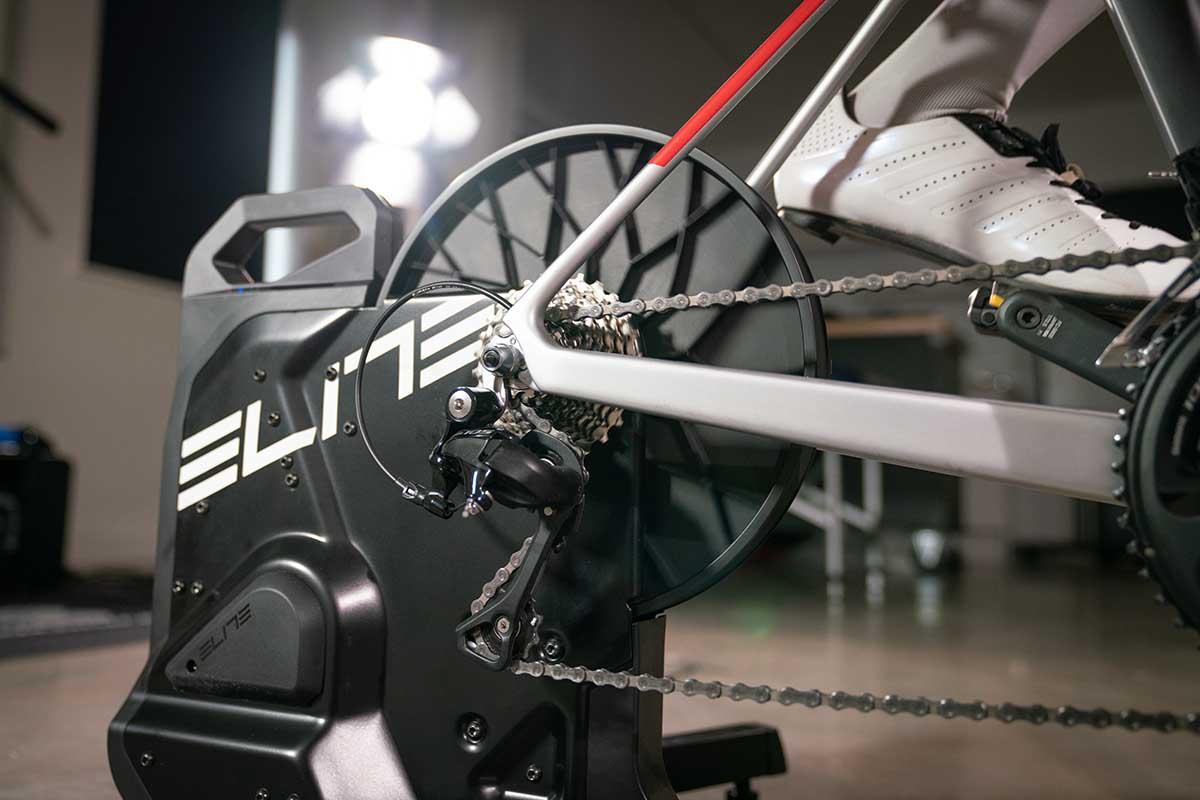 The ETraining app will gain you access to another one of the Suito's features: Power Meter Link (PML). If you already run a power meter on your bike, you can choose to run your turbo sessions using that device rather than the inbuilt power measurement system on the Suito. If you're hot on your power numbers, this may well be a feature that appeals.
The Elite Suito is a smart trainer (read our smart turbo trainer how to for more) which means it'll automatically change the resistance you feel when pedalling. In simulation mode (the one we used for our Zwift rides) the Suito replicates a given gradient and just like when you're riding outside, changing up or down gears will make pedalling easier or harder respectively. In ERG mode the Suito will sit at a specific power level, irrespective of what gear you're in.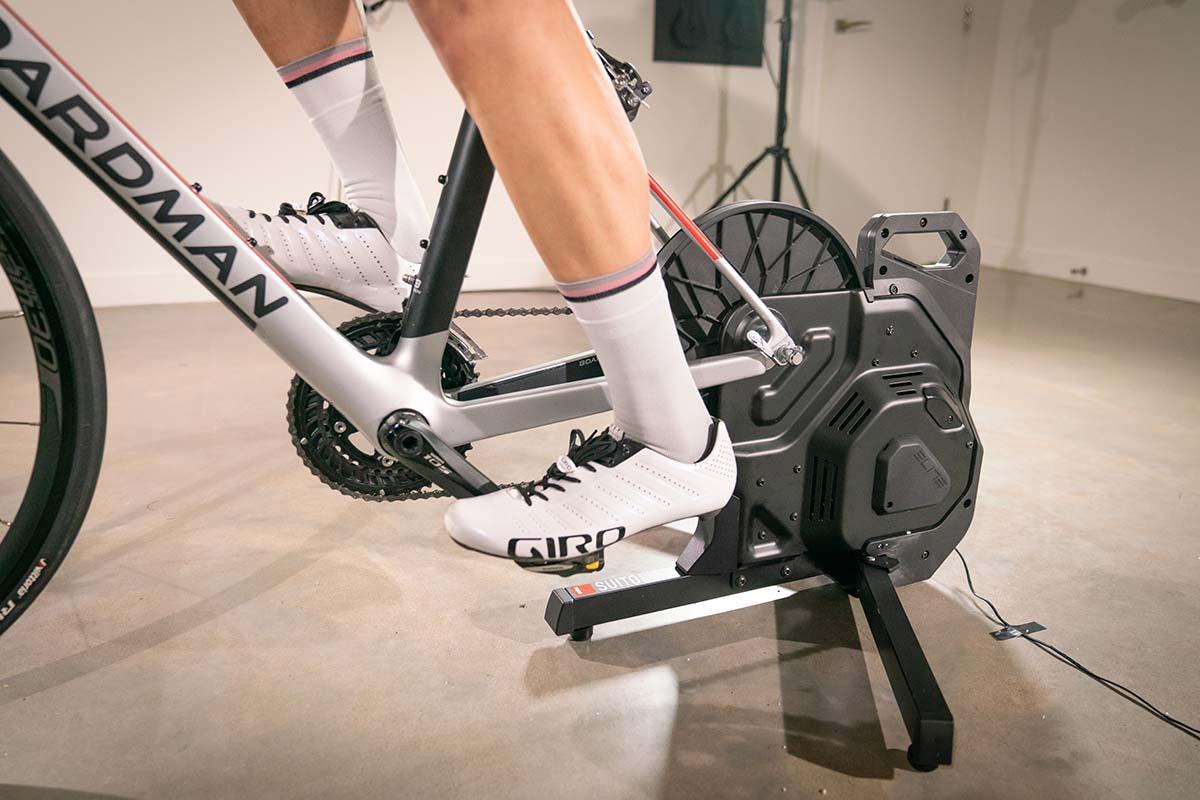 Back to simulation mode, the Suito will simulate up to 15% gradients, more than enough for most trainer sessions and with a maximum resistance of 1900watts, unless you're Robert Förstemann, Chris Hoy or Andre Greipel, you shouldn't reach the power limits of the Suito.
Get riding and the Suito starts to shine. The direct-drive platform combined with the wide legs and balanced 3.5kg flywheel makes a trainer session as joyous as it can be. It's quiet too, certainly no louder than the big fan you'll probably have running simultaneously, and like us, if you ride the turbo with headphones the noise certainly doesn't detract from the harsh, tasty beats throbbing in your ears.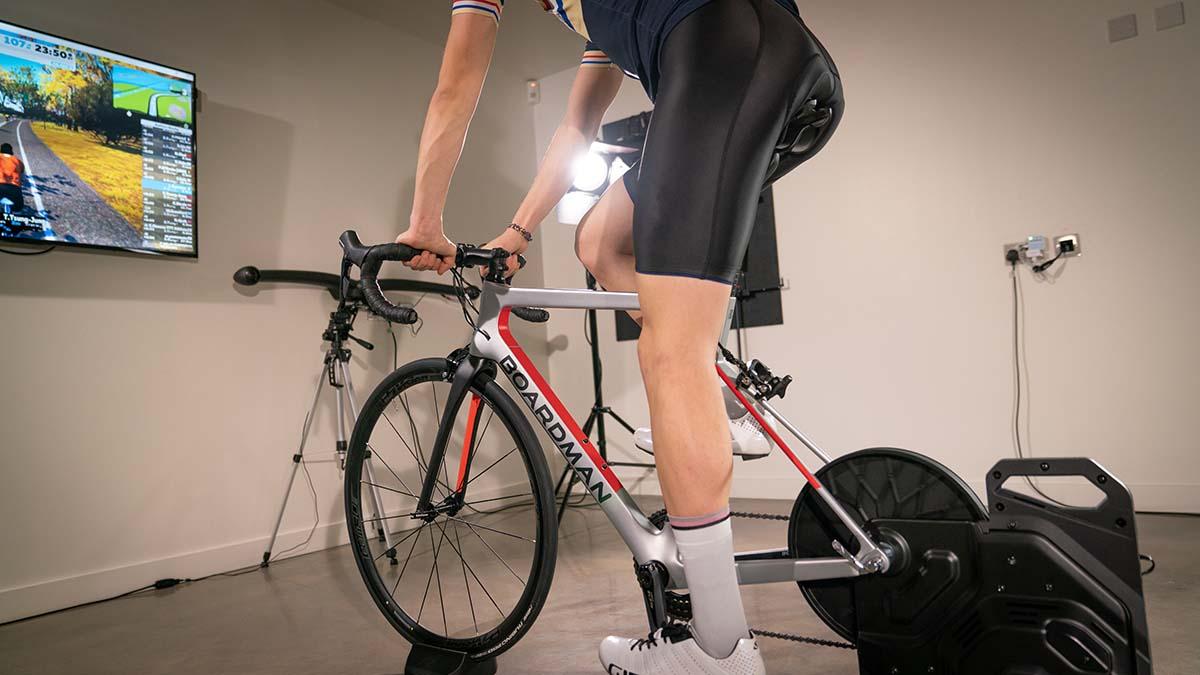 Et voilà– that's the end of our Elite Suito smart turbo trainer rundown.
Think we've missed something? Put us right in the comments below – we can take it!