Shining the environmental spotlight on e-bikes
More and more of us are making conscious lifestyle changes to protect our planet and, in recent years, we have certainly seen the effects of that on public interest in e-bikes.

They have become an incredibly popular choice for riders new and old, but, for all their prospective benefits to our health and the environment, their manufacturing process is still the subject of some debate.

That's why we've crunched the numbers to find out how green you could be with an e-bike as your preferred mode of transport, instead of cars, taxis, buses and trains.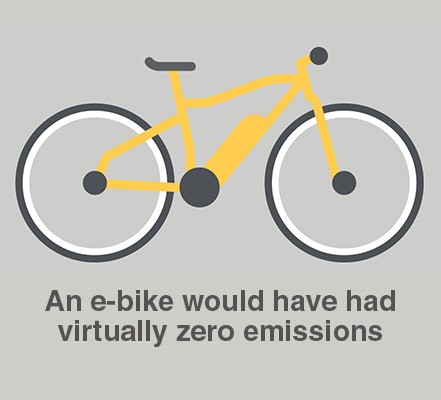 From zero to hero
The Department for Transport's data (2018) for the total greenhouse gas emissions by transport mode in 2016 painted a stark picture of just how much CO2 we are putting into our atmosphere with our commuting and travelling habits. .

Road travel alone is responsible for 89.5 million tonnes of CO2, whereas e-bikes by comparison would have emitted nothing at all.

This suggests that we can have a long-term positive impact on our environment by offsetting the production of e-bikes with regular use of them as an alternative transport option.

Source: ONS, Department for Transport (2018) confirmed data for 2016

Rethinking the 'endless cycle'
Individual transport industries can be responsible for significant amounts of CO2 emissions on a yearly basis, which can seem like a constant battle.

However, this is exactly why e-bikes can play a huge role in not only preserving our environment, but also in keeping us all fit if we make a habit of using them.

Source: ONS, Department for Transport (2018) confirmed data for 2016
According to the sustainability statement from the Accell Annual Report, if you travelled approximately 40 miles every day for a year – a total distance of just under 15,000 miles – doing it with:
Double "0" power
If sustainably produced electricity is used for the manufacturing of e-bikes, they will emit almost zero emissions and make practically no noise at all whilst out on the road.

The power of e-bikes to improve the quality of our air, as well as the quality of our communities, makes them one of the fastest-growing modes of transport in Britain.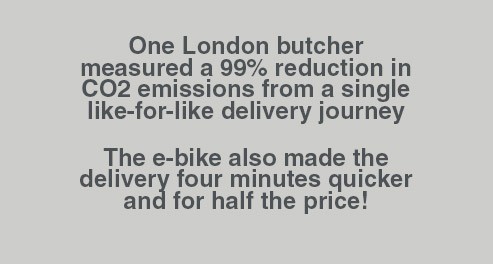 Butchering pollution, one business at a time
A forward-thinking butcher in Greenwich, London, recently put the e-bike to the test against his traditional mode of transport: the van.

He made the same delivery to the same café using the same route on both sets of wheels and demonstrated an eye-opening reduction of 99% in CO2 emissions.

Amazingly, the emissions from the e-bike were so low that this butcher would have to complete his delivery over 153 times on it before he emitted as much CO2 as the van after just one delivery.

Source: Sustrans
Making the most of an e-bike
If you're considering buying an e-bike, here's how you can make sure you get the most out of it for the benefit of our planet:

1. Always opt for your e-bike instead of your car or motorbike

2. Buy your electricity from a supplier who only uses renewable sources

3. Only use the maximum support mode when absolutely necessary

4. Use the gears on the e-bike to be as efficient as possible

5. On a hill or when setting off, change to a lower gear before putting the motor into a higher mode

6. If you're travelling faster, use a higher gear so you can use more of your own strength to power the bike rather than the motor

7. Inflate your tyres to the recommended pressure to make it easier to pedal and travel further on a single charge

8. Maintain your e-bike to ensure maximum range with regular services and cleaning of the gears and chain

9. Adhere to the manufacturer's advice and store at a suitable temperature and out of direct sunlight
We asked Colin Williams, an ex-environmental consultant with a Masters in Environmental Impact Assessment, what he thinks about the role of e-bikes:

"The recent surge in e-bike interest is well documented by media all over the world. Rather than replacing a main mode of transport, e-bike popularity in the UK is likely increasing due to their use for sport and recreation rather than utility."

"People need to be encouraged to see the benefits of using their e-bike for lots of different types of trips, not just leisure. Used in place of cars, e-bikes can help to reduce congestion and pollution and cancel out the environmental impact of their production."

"E-bikes can also be viewed as a gateway to traditional bikes, allowing users who couldn't previously travel by bike to do so. In turn, this will eventually lead to more people commuting by bike, which will undoubtedly positively impact the environment."

Colin Williams, KTM Bikes UK