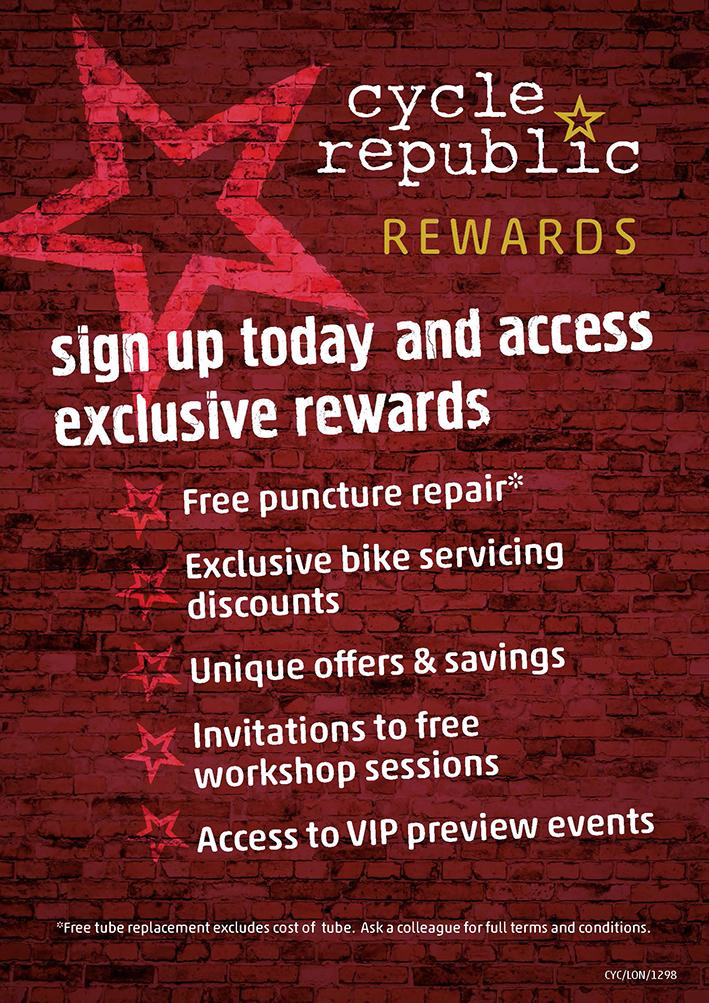 Reward Card Terms and Conditions
1. These terms and conditions ("terms") govern the use of the Cycle Republic loyalty card ("CR Card"), participation in the Cycle Republic loyalty scheme ("loyalty scheme"), the collection and use of reward points as part of the loyalty scheme, and any offers associated with the loyalty scheme. In these terms any reference to "Cycle Republic" is a reference to Halfords limited (of which "Cycle Republic" is a trading name) and its associated companies.
2. These terms set out the terms of the agreement between the Cycle Republic and holders of the CR Card (the "loyalty scheme members").
3. The loyalty scheme is open to all UK residents aged 18 or over. Cycle Republic reserves the right to decline to issue a CR Card for any good reason.
4. Subject to these terms, loyalty scheme members are automatically eligible for a number of periodic offers which will be featured from time to time in Cycle Republic Stores as being exclusively for loyalty scheme members ("Member Offers"). In addition, reward points can be earned against qualifying purchases by loyalty scheme members within participating Cycle Republic stores.
5. Reward points cannot be earned where the following types of transactions (which are not qualifying purchases) are conducted: (a) the purchase of Cycle Republic gift vouchers; (b) delivery charges; (c) purchases of bikes; (d) purchase of workshop services & repairs; (e) all Cycle2work orders; (f) purchases online, including from cyclerepublic.com and Halfords.com. Cycle Republic reserves the right to change these exclusions from time to time upon giving reasonable notice of such changes to you.
6. If no qualifying purchases are conducted for 24 consecutive months in respect of a CR Card, all reward points on that CR Card will expire.
7. In order for a purchase to constitute a qualifying purchase, the CR Card must be presented at the time of purchase.
8. Rewards vouchers must be redeemed within 12 months of issue. The use of a reward voucher is subject to (a) these terms and (b) any further terms and conditions advised at issuance. Change cannot be given if a rewards voucher tendered exceeds the value of the relevant purchase and no cash alternative is available. Reward vouchers cannot be used in conjunction with any other voucher offers or discounts. The redemption of a reward voucher does not qualify for reward points under the loyalty scheme. The rewards voucher remains the property of Cycle Republic and cannot be re-sold.
9. Cycle Republic reserves the right to amend, cancel or withdraw the terms of this loyalty scheme at any time. Wherever possible, Cycle Republic will provide you with advance notice of any such changes. You will be deemed to have accepted these terms and any changes to them if, after receiving a copy of the terms or any notice of a change to them, you continue to use your CR Card or utilise Member Offers. The CR Card will at all times remain the property of Cycle Republic.
10. Where you request that the value of all or part of a qualifying purchase is refunded to you, you must present the CR Card in order that points equivalent of the refunded amount may be deducted from the reward points balance. This may result in a negative reward points balance where a reward has been issued to you in respect of the relevant reward points balance prior to any such refund.
11. Reward balances cannot be transferred from one loyalty scheme member to another. A CR Card is not transferable and can only be used by the person to whom the CR Card is registered.
12. Your CR Card may be cancelled for reasons such as fraud or a breach of these terms. If this occurs your reward balance will also be cancelled and no reward value will be issued in respect of such reward balance.
13. It is your responsibility to notify Cycle Republic of any change of contact details. Cycle Republic cannot be held responsible for rewards vouchers once they have left its control and will not be responsible for lost, delayed or undeliverable mail in any media.
14. Cycle Republic may refuse to authorise the issue of points and/or to redeem rewards vouchers which have been issued if Cycle Republic reasonably considers the scheme is being used fraudulently by the loyalty scheme member.
15. If there is a query relating to a points balance, the loyalty scheme member will be responsible for producing (on request) any required proof of purchase for any transaction which has not been accredited towards its reward balance.
16. In relation to your personal data, Cycle Republic is the data controller. Cycle Republic and the companies within its group from time to time (including Cycle Republic holdings limited and the Cycle Republic company's shops limited) will use the information you supply on the loyalty scheme application form together with information relating to your transactions, purchases and participation in the reward scheme for the purposes of administering the reward scheme and statistical analysis. We will also use your details for marketing purposes to allow Cycle Republic to send you news of special events, offers, promotions and catalogues using the communication methods and on the topics that we have agreed with you. If at any time you no longer wish to receive such information or you wish to change your preferences, please write to Cycle Republic Customer Services, Icknield Street Drive, Washford West. Redditch, B98 0DE. We will share your personal information with E-Receipts Ltd, Co. Number: 07498792, who administer the loyalty scheme on behalf of Cycle Republic, for the purposes of administering the loyalty scheme.`