Fast and powerful, the 2020 Orro Venturi is built for a responsive, quick-as-a-flash riding experience.
An aerodynamically optimised frame, disc brakes and 28c tyres form a package that matches many a road riders checklist in 2019.
Want to experience the thrill of an Orro Venturi yourself? Well, you're very much in luck.
We've teamed up with the good people at Orro to offer one of you the chance to ride away with an Orro Venturi Evo 105.
One lucky winner will snaffle a package that's worth £2099.99 – not bad eh? Get your hat in the ring before the competition closes on the 14th of November.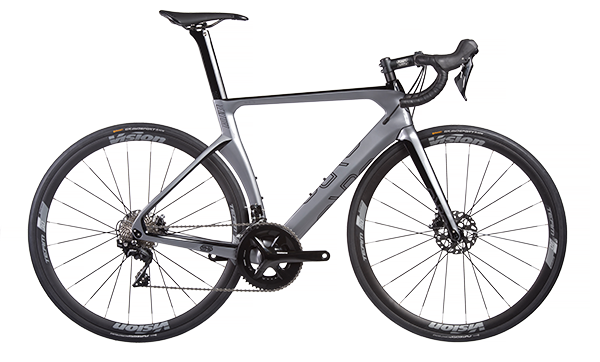 Orro Venturi Range
The 2020 Venturi will be available in several complimentary build options to suit different riders and budgets.
Orro Venturi Evo 105 - £2099.99:
A bike that'll turn heads thanks to a sumptuous gloss grey frame. It features a full Shimano 105 7000 groupset.
Orro Venturi Ultegra STC - £2599.99:
From here onwards, each Venturi uses high-end STC carbon in the frame. Premium finishing kit from Prologo, Deda and Shimano tops this bike off.
Orro Venturi Ultegra Di2 STC - £3299.99:
Take a step with this version of the Venturi. Available in either black and gold or white and red.
Orro Venturi Ultegra Wind STC - £3499.99:
Want an even faster package? Orro offers the Venturi with Fulcrum 40DB carbon wheels – a disc wheelset designed to be fast uphill, downhill and on the flat.
Orro Venturi Ultegra Di2 Wind STC - £4199.99:
The crème de la crème model, featuring those Fulcrum 400 carbon wheels and Shimano Ultegra Di2.
Want to see one in the flesh? Course you do! You'll find an Ultegra model in our Fenchurch, Battersea, Canary Wharf, Manchester, Bristol, Birmingham and Cheltenham shops right now and our Euston, Purley, Norwich, Southampton, Derby and Liverpool stores very soon.



Spread Tow Carbon (STC):
Orro has used their relationship with the UK's leading carbon manufacturer, Sigmatex, to excellent effect in recent years. The Venturi is another example of this collaboration. Sigmatex's Spread Tow Carbon (STC), when compared to other fibres, has a much higher density, this helps create a frame (and fork) that's very low in weight and yet boasts excellent stiffness and comfort.

Disc brake only:
No rim brakes here thank you! The entire Orro Venturi range is free of the rim brake. Throwing off those shackles has helped Orro create a bike to be ridden fast, but one that also comes to a controlled stop when you want it to.

Optimised for 28c tyres:
Comfort and grip – two reasons Orro have designed the Venturi around 28c tyres. Using this tyre size has another bi-product – it helps reduce the space between the tyre and the frame, smoothing airflow in a traditionally turbulent area.